This post may contains affiliate links. I can make a small commission if you make a purchase through these links at no extra cost to you. This commission helps me maintain my website
What do you see when you scroll Instagram, Pinterest or any fashion magazine? I see perfectly dressed ladies, in skirts, dresses and comfy smart pants. Jeans are my go-to outfit formula, my everyday uniform. But lately, I feel uninspired by my capsule wardrobe and being home for such a long time, I would like to take my smart pants for a ride again. By looking at my wardrobe there is plenty of other items that can be worn casually, and it doesn't need to include jeans. And by spring in the air, we can swap the cotton jeans for lighter pants or skirts. Scroll down to see the 7 outfits that you can wear without jeans.
// Shortsleeve knit // Pants // Blazer // 
7 Outfits To Wear Without a Jeans
What do you wear instead of jeans? Did you ever try to wear your smart pants with trainers? No? It's time to try it on. Or what about our favourite white trainers with a skirt and slouchy knit? Another perfect combo for transitional weather. It might not be the best choice for office dress code, but perfect for dress-down Fridays ;). And what about wearing smart trousers with white trainers? It looks pretty cool and once you pair it with a simple t-shirt and a blazer you have a perfect office outfit. Will you give it a go?
// Shirt // Short Trenchcoat // Bag //
Do you think you can't live without your jeans? Let's try to start with a week without wearing jeans. From Monday I'll go for more comfy outfits to include smart trousers, a skirt and dresses in my outfits. I will document it on Instagram, if you are curious how it goes and you would like to join me, please share your outfits and tag them #aweekwithoutwearingjeans. Who is with me?
If you still feel uninspired please visit my Pinterest for more outfit inspiration.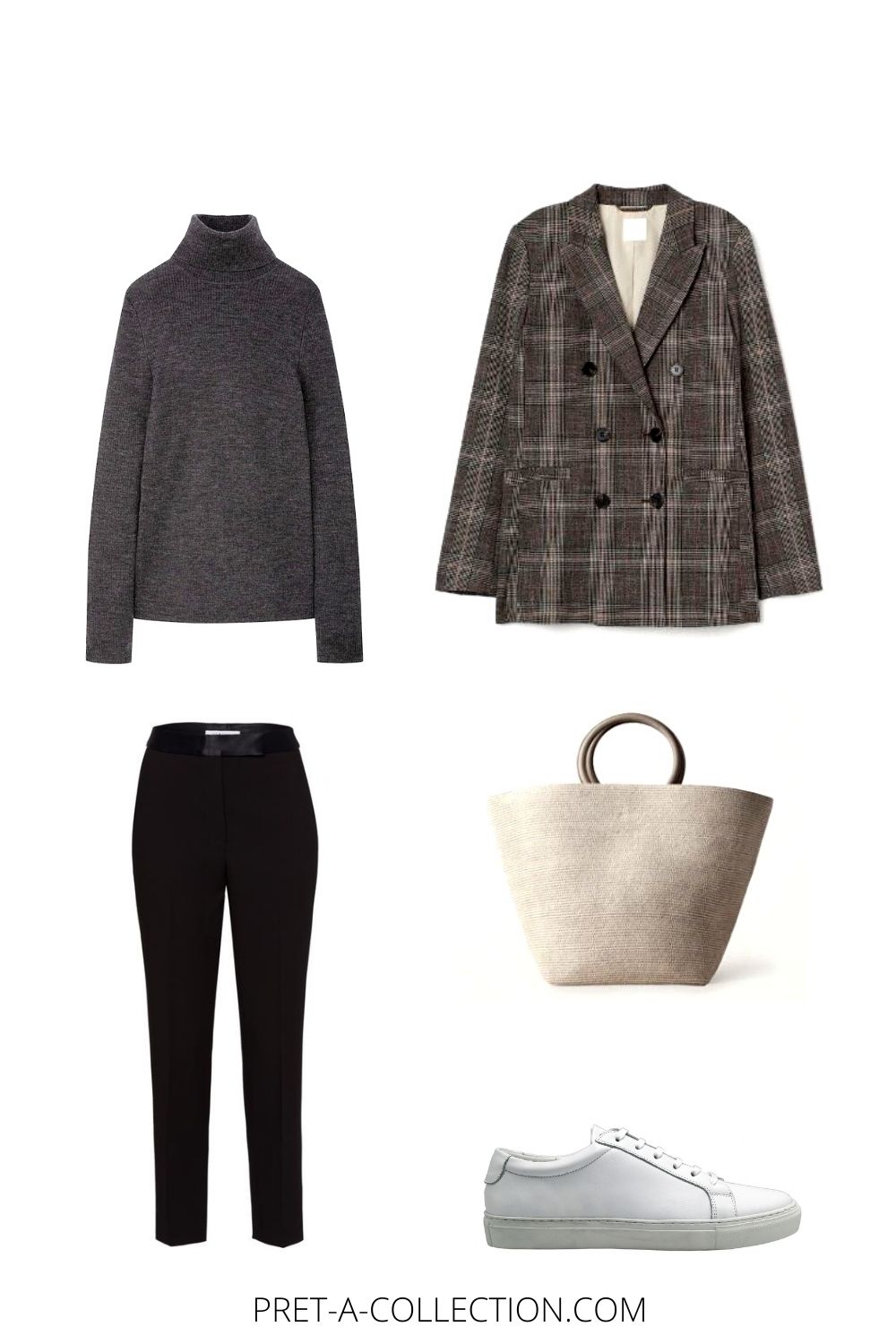 If you are curious about the progress on my clothing label here is a little update. I met the seamstress to do samples. It should be ready by end of this week or the latest begging of the next week. There are 4 more styles in making, 2 summer pieces, but also great for layering and 2 all-year-round pieces. Keep an eye on my Instagram for updates and when the new pieces will be released. Don't forget everything is made to order, to reduce the waste of overproduction. Also, our clothes are made locally in small workshops to make sure we produce ethically and sustainably in the highest quality.  Have you seen our first product? Not yet? Shop it here.