How To Shop Smart During the Sale Season
This post may contains affiliate links. I can make a small commission if you make a purchase through these links at no extra cost to you. This commission helps me maintain my website
We just approached one of the most challenging times of the year. Black Friday is around the corner and we don't search only for Christmas gifts at that time but we might feel tempted by special prices that keep flashing around, to make us purchase something out of our budget or completely unnecessary. To be a smart shopper and resist all the special deals we need to learn how to shop smart during the sale season. Follow these few steps to help you keep on track with your budget and minimalist lifestyle.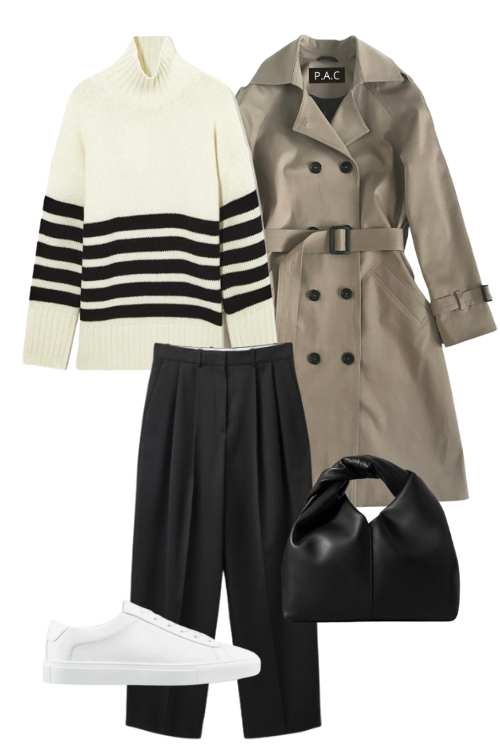 Cashmere sweater // Trench coat // Trousers // Trainers // Handbag

How To Shop Smart During the Sale Season
Figure out what you really need and allocate funds towards it. If you want, keep aside some money for things you want to splurge on. Take your time to think about the items you really need and see what you can and cannot live without.
Smart Shopping Tips
Plan ahead
Make a wishlist/shopping list
Create a budget
Stick to your shopping list
Invest in quality
// Cashmere sweater // Trousers
Plan ahead
Planning ahead is the most important part of approaching shopping as a smart shopper. When you plan ahead you are on a good way to buy only what you really need. If you plan to purchase something to accomplish your capsule wardrobe, first what you need to do is to do a good cleanout. It shows you what you are in need of, and what needs to be replaced or added. The sale season is great to add to your wardrobe quality pieces at a better price.
Make a wishlist/shopping list
Making a wishlist or shopping list of the items that you need and that you really like to spend a hard made cash on is a good start to planning ahead. You can create a visual wishlist, something like a collage. By doing so, you can create many outfits with your planned purchase. You will see if it's really something that will be a great fit for your wardrobe.
Create a budget
By creating a budget you avoid unnecessary surprises at the end of the month. You know exactly how much you can spend or if there is any wiggle room for better quality items. If there is something that you really want but you are in a situation where you can't really afford it at the moment, it's better if you put that hard-earned money aside and save them for the next time. The sales will come again. Try to avoid spending money on less wanted items just because it's cheaper. In the end, you would spend more. And that's what we don't want and need.
// Cashmere Sweater //
Stick to your shopping list
To keep on track with your purchases and budget you'll need to stick to your shopping list and be strict with it. It is really easy to slip the way when you see so many flashy sales, huge discounts and loads of stuff that you wouldn't even think you need it. And you actually DON'T NEED them. Stay smart and shop only for items that you put on your shopping list.
Invest in quality
The sale season is great to treat yourself as well. Spend that hard-earned cash on the best quality items that you can afford. If you look around you can get cashmere knits at really great prices. Or you've been thinking about a new pair of jeans? Have a look for the best deals on your dream jeans. Browse early so you know what you want and need once the sale is on.
Hope those tips help you spend your money wisely. And if you are not so keen on sales, and you prefer to shop your own wardrobe my eBook can be a good 'helping hand' to do so.