This post may contains affiliate links. I can make a small commission if you make a purchase through these links at no extra cost to you. This commission helps me maintain my website
What is your favourite pattern that you included in your capsule wardrobe and you can't even imagine literally living without it? For me, it's definitely stripes. Striped sweater, t-shirt, shirt, trousers or a dress. You name it and you can find stripes on any piece of clothing. And because it's cold outside so I decided to write an ' ode ' on a striped sweater. To have some inspiration to wear fashionably in the cold weather and beyond.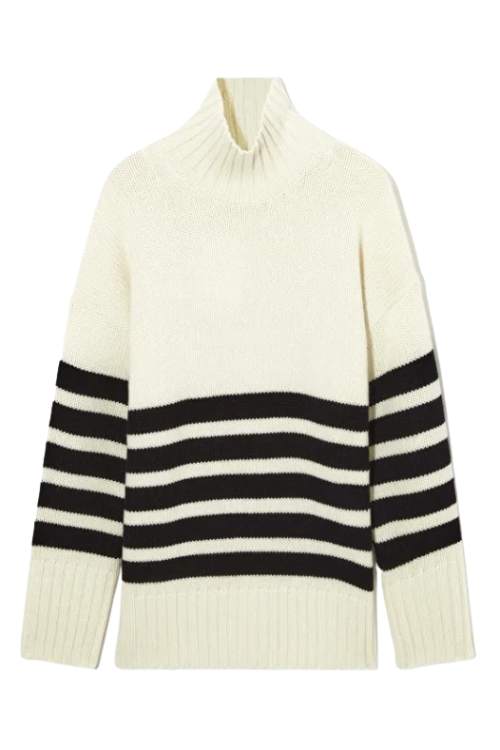 Striped sweater
A striped sweater is basic in a capsule wardrobe if you love wearing stripes as I do. Especially these days when you need the warmth of a wool sweater and you would like to stay chic in stripes.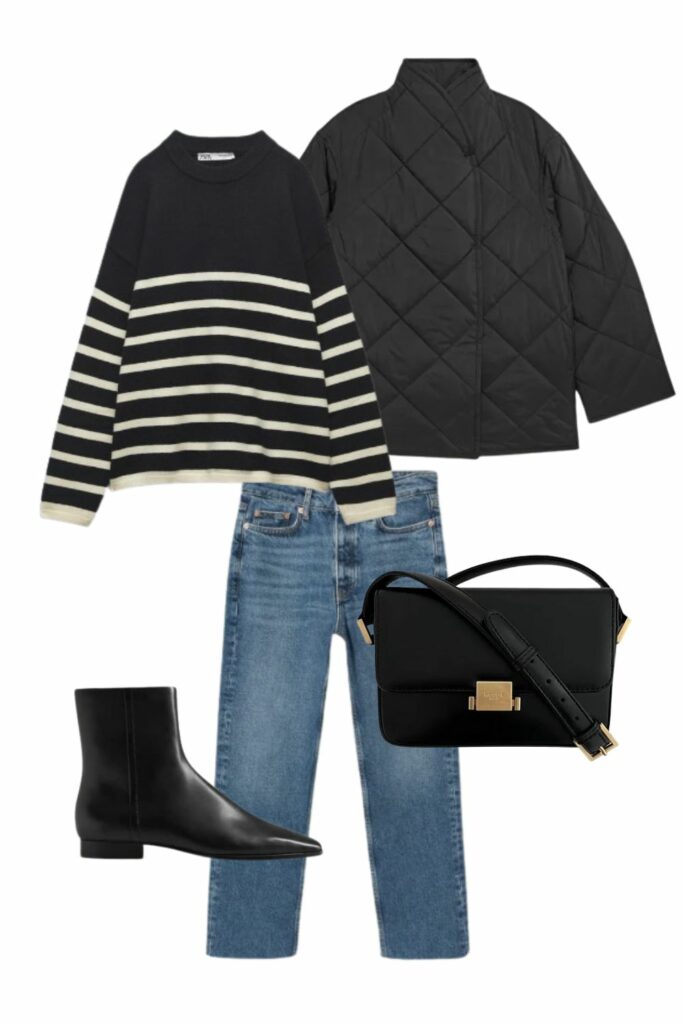 Oversized Striped Sweater
Did you notice that all fashionable ladies whose core wardrobe is created from basics wear oversized sweaters every day? If you love to wear stripes wear them oversized.
// Sweater // Jeans // Puffer Coat // Tote Bag // Beanie
Fitted Striped Sweater
You said you don't like to wear an oversized sweater. Not to worry, have a look at all the fashionable french ladies. The fitted stripe sweater never looked so good when it's paired with the straw basket for a grocery run or worn with heeled boots and straight jeans. Just grab your favourite coat and you are ready to go.
Jeans // Trench coat // Bag in green
How To Wear Striped Sweaters
As I mentioned above, the best to wear the fitted striped sweater is to pair it with straight jeans, and boots. Extra point to wear them with heels. If you prefer an oversized striped sweater wear it with tailored trousers and trainers or loafers. Comfortable yet chic combination.
Coat // Trainers // Trousers // Striped rib Sweater
What Colour To Go For
The Black and white combination is the timeless and basic. It never goes out of style. The second best one is white and black. A darker base makes it easy to pair with any other colour. Even if you prefer bright colours from time to time you can calm down the outfit with this sweater.
// Sweaters or this Everlane option // Sandals //
Is the oversized sweater considered basic in your capsule wardrobe? You didn't build your capsule wardrobe yet? So then it's the perfect time to start.
If you just decided to build your capsule wardrobe, my eBook How To Build a Minimalist Wardrobe will be your right guide along the way. You started to build your capsule wardrobe but you feel like you are not able to do it on your own. Would you prefer to have someone on hand to help you decide what should stay and what should go? Then my capsule wardrobe consultation service is right for you. Book your time with me over here.