This post may contains affiliate links. I can make a small commission if you make a purchase through these links at no extra cost to you. This commission helps me maintain my website
Past few weeks I've been busy working on the website and everything around it. I just can't believe that I've been working on this little project of  Pret a Collection for 4 years already. I started that website as a project to keep myself in touch with the outside world while I was on maternity leave. Sounds crazy? Not that much, it was my second maternity leave so I knew I will spend some time at home, there won't be much real talk but many sleepless nights.  Look, where we are now. I just can't believe this is the 3rd time when I prepared a winter capsule wardrobe.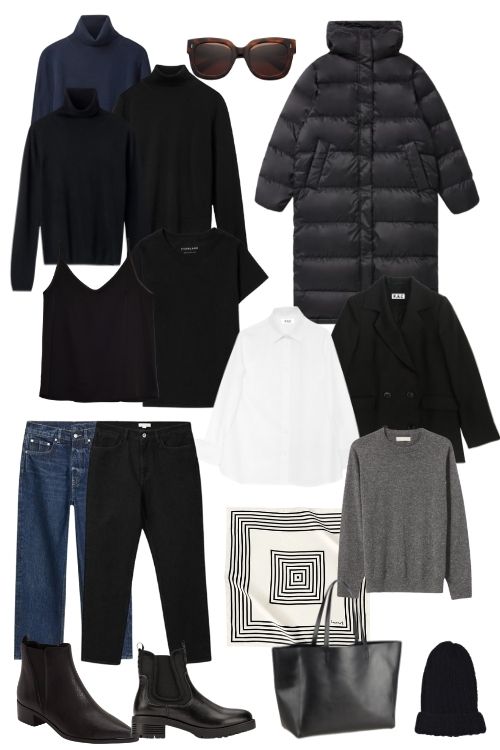 Roll Necks // Top // T-shirt // Parka similar here // Shirt // Blazer // Blue Jeans // Black Jeans // Scarf // Cashmere Sweater // Boots similar here // Tote // Beanie  
Winter Capsule Wardrobe 2021
Capsule wardrobe for winter 2021 is not much different to others. Once you have a capsule wardrobe in place with the best quality basics that you can afford, creating the seasonal wardrobe is a matter of a few minutes. But if you are just starting out with the capsule wardrobe project I recommend you take your time, make a plan and think about your style and lifestyle. It will save you so much time and you'll avoid unnecessary mistakes. First time when I started, that 4 years ago, I started really slow, taking an A year without shopping challenge and documenting it. If it sounds too much for you, then this post is written for you to help you out to create the perfect 2021 winter capsule wardrobe.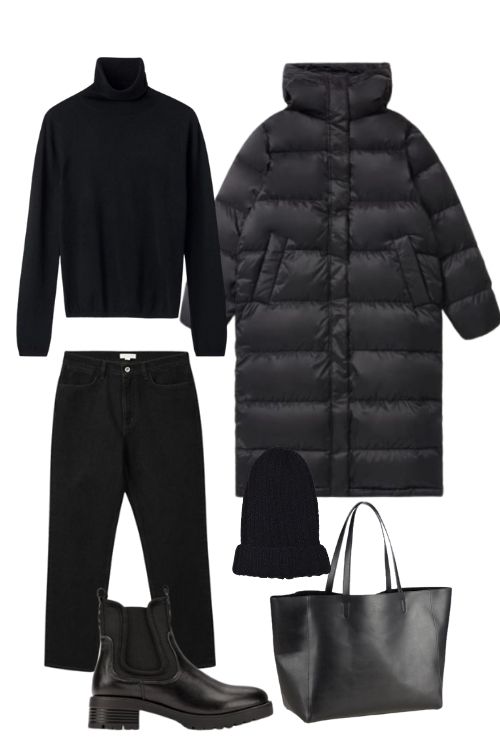 What Should I Wear For Winter
Make a plan, think about your style and lifestyle as I mentioned before. Make a note. If it helps you go through Pinterest for inspiration and create the dedicated board for a winter capsule wardrobe. You will see straight away what you like and what your style is. If that part is done then let's find out what's in your closet. You heard it probably too many times, that if you want to start building your capsule wardrobe you need to clear your closet first. To take everything out, wipe the shelves and actually see what you have. What was hidden at the back of the closet for a long time.  Does the amount scare you? Or it's not that bad? Good.
How Many Items Do You Need For a Winter Capsule Wardrobe
Now you can start sorting it out. First I would put back, everything that I wear on a daily basis, but be careful if it's one of your favourite pieces check it out if it's still in a good condition. If it looks a bit outdated, worn out or it has one or two stains or holes, it's better if that piece will go and you add it to your shopping list. Keep that shopping list with you, it's a good practice to make notes of what you need straight away. Otherwise, you could forget and then buy something that won't fit at all. The mistake is what we try to avoid.
What To Do With The Rest?
In the first step, we got our all-year-round basics. That's the core of our capsule wardrobe, but we need to create a winter capsule. Have a look at what kind of seasonal clothes you have in that pile. Sweaters, thick socks, thermals, coats and jackets. Take it out, and try to sort it out again. Same way as before. If there is something that you don't wear, doesn't fit or doesn't look right, probably you won't wear it. Once you sort it out, you'll see if there is something that you missing or something you need to be replaced, add it to your shopping list. We actually created a winter capsule wardrobe. We have core all-year-round items, plus we have seasonal winter items. But what to the with the pile what is left?
What About The Items That Are Out of Season or I Don't Like Them?
I guess you'll still have many pieces laying around. All that pieces are either seasonal or you don't wear them for some reason. To keep a tidy wardrobe you will need to store the seasonal items that are in a wearable condition. Why do I say in a wearable condition?  Because some items are still good enough to be replaced through the season or until we find that perfect replacement piece. That's why I have done my no shopping challenge to wear exactly that kind of piece. Wear them until I really need to replace them. Once other seasons are stored away, you will need to sort out the remaining clothes. There are only 2 options. Either bin it, as they are not in a wearable condition or sell/donate good enough pieces but you don't like them or they don't fit you anymore.
Is That All?
No, we didn't finish yet. We have to finish our shopping list. We can create a wish list. Or you can keep all at once place on that newly created shopping list. What I do to keep track is I always create a shopping list on my phone. It's always with me when I shop. I can check anytime if there is something needed for the current season or for the coming season. My little trick how not to overspend, if I need something but it can wait, I always buy items at the end of the season or way before the season. I have plenty of time to think about it, and it's way cheaper.
Last but not least advice. Don't rush! Start building your capsule wardrobe slowly, if you need to a month before the season, do so. You will have enough time to sort out your closet, think about your style and have control of your budget. You won't feel the pressure of the upcoming season and cold days. Once it hits you, you'll be ready. Also, the capsule wardrobe is about timeless quality pieces that last for years. Even if you buy something more expensive it will last for years, not for a season. And we all know that more expensive items look better as well. We will adore them for much longer than cheaper options.
The items in the collages are the exact items that I have in my capsule wardrobe. For the real pictures, please follow me on Instagram and for the neutral wardrobe, I pin new pins daily on Pinterest.