This post may contains affiliate links. I can make a small commission if you make a purchase through these links at no extra cost to you. This commission helps me maintain my website
Every year after relaxing Christmas there is a time with blinking red " sale " signs everywhere. For a sensible shopper, it can be hard to keep calm when you want to get crazy and put your hands on all that new kinds of stuff that you don't actually need. But what if you need something? Then the end of the year sale is a good time to get all the items that you would buy anyway but without that full price tag on it. But how to approach the biggest sales of the year without doing too much harm and getting only items that you really need? Here is my best advice for smart sales shopping along with my favourites. 
Find all items here 
How To Approach The End Of The Year Sale and To Buy Only Favourite Items
Sales quite often make us buy things that we don't need for money that we don't have. It means it's not cheap for us to buy stuff that we wouldn't buy otherwise. But what is a good bargain then?
Make a plan.
First of all, think about what you really need and decide what to buy. If you need to declutter your closet before you buy anything new, might be you will even find out that you don't need anything.  If you do need to buy something it will be clearly seen straight away. Make a shopping list or a wishlist. Put on your shopping list the items that need to be replaced or added. That's the items that you need to buy first. Most of the time it's a simple t-shirt as they get worn out quite quickly, some jeans, shirts, sweaters, trousers…  Then more expensive items as coats, jackets, shoes … you can even think of these items as investment pieces. This is a good time to buy your wool winter coat. 
Find all items here 
Plan Where To Shop 
Do you have your favourite shops for certain items? Does the items from this brand suits you or do you just like their look? For example, if ZARA jeans fit you well, but you don't like the quality of the simple t-shirts from there, so you should buy only jeans from this shop.  No point to buy anything else if you wouldn't be satisfied with the quality and fit. Try to approach all your listed items on a shopping list this way. You will create a plan where to shop and you can start browsing for these items. But don't go on an infinite Asos scroll.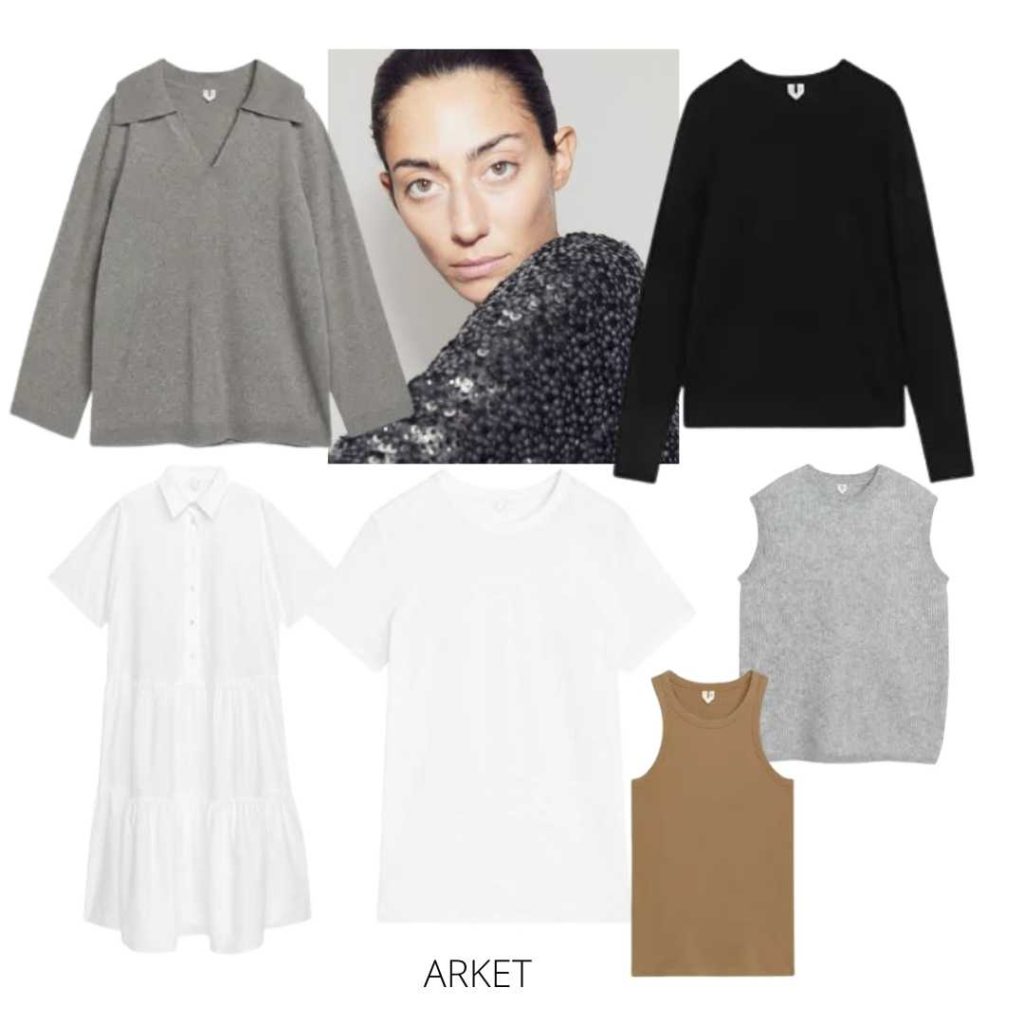 Find all items here 
Set a Budget 
This part is very important. The budget is important to avoid unnecessary purchases but also to set you up with the best quality pieces that you can afford. If you can afford a little wiggle budget room, give yourself that extra, because if you find the more expensive pieces, it could mean they're better quality therefore a good timeless investment. But if you can't afford that extra wiggle budget room, strictly stick to your budget and prioritize your items. It's better to get the one really good quality item that you will love and wear for many years as 3-4 ok items. 
Compare Prices
If you have done your research on what you really need you probably noticed price differences. Everyone loves an extra discount, sometimes it's worth searching for it. Try to look for newsletter discounts, check the brand social media accounts for discount codes or find the Instagrammers who works with the brand as ambassadors and get their special code. 
Hope this little guide helps you find the best pieces for your needs. If sale shopping is not something for you, or at the moment you don't need anything, I came with the idea of Smart Shopping. Simple make your wishlist, share it on any social media Instagram, Pinterest or FB and try to think about your purchases. At the end of the year, you can summarize what you got. It doesn't matter if you buy it, swap it, thrift it or make it. The most important will be to keep yourself accountable with your purchases. 
If you like the idea of Smart Shopping, follow me on Instagram where I share my wishlist in Smart Shopping highlights.