This post may contains affiliate links. I can make a small commission if you make a purchase through these links at no extra cost to you. This commission helps me maintain my website
What are your most worn shoes in the summer? Let's be honest! I think most of us would say, slides, sandals or flip-flops. Yeah, that's what summer is all about. Take it easy and stylishly in the summer sandals. And to make it even more stylish I decided to search for minimalist summer sandals. Here is what I found. It doesn't matter if you prefer leather or vegan here are the best minimalist summer sandals with the ideas on how to style them with your wardrobe.
The Minimalist Summer Sandals
If you remember I've put the wishlist together, to keep me accountable with my shopping and to try shopping in the smartest possible way. I also included the minimalist summer sandals in it. Preferably in leather. But with so many choices out there we can get lost. But here are my favourites so far. I am sure I can find something that I like.
// Alohas Pad- Black Leather Sandals //
What Sandals Are In Style For Summer 2022
You might be lost with so many summer sandals choices, but to help you out a little this is what is trending at the moment.
How Do You Wear Summer Slides To Work
While sandals may be too casual to wear to the office, especially if your office is very professional, then smart slingback heels or mules would be a better option. But if your office is more on the smart casual side, you can wear simple leather slides, not flip-flops, to work with a slip skirt, wide-leg trousers or with cigarette-style pants. If you style them with the blazer you have a perfect smart casual summer office outfit.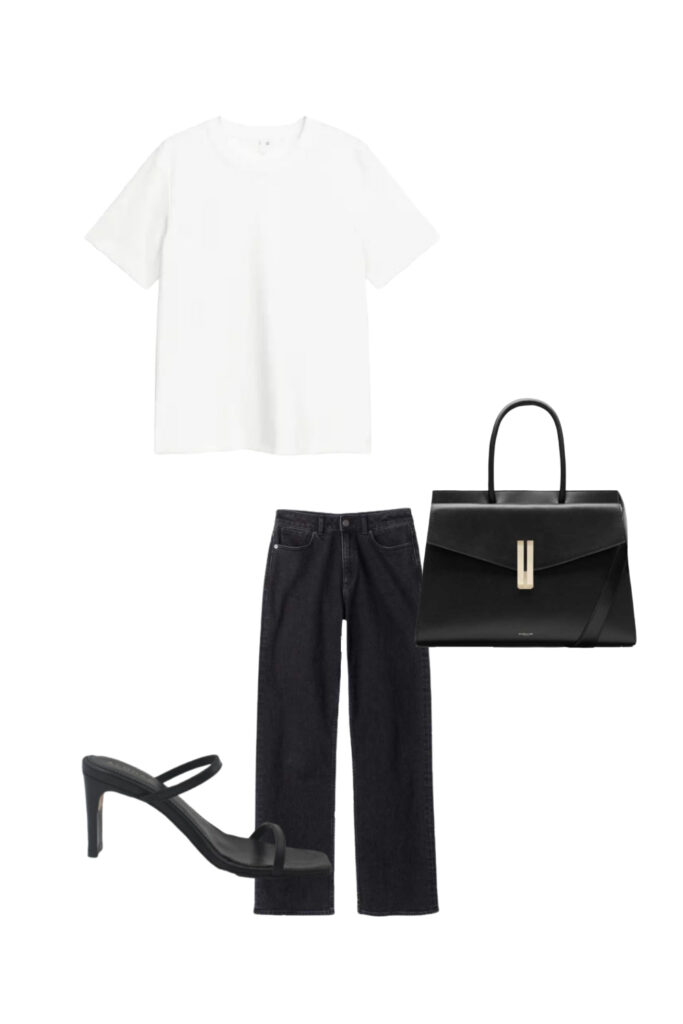 T-shirt // Jeans // Tote Bag // Sandals //
How To Wear Sandals and Slides With Jeans
Since sandals are intrinsically a bit more casual, you can wear them with jeans and a slouchy tee or a flowy tank. Try different outfit combinations to see what fits your style best. If you're interested in rocking this casual style during the sunny seasons we've got you covered.
// Slides //
Do Sandals Look Good With Wide-Leg Trousers
Flat sandals are a great choice for warmer weather. They pair well with both cropped style and full-length straight leg, wide-leg trousers and jeans. For a casual look, try wearing them with a t-shirt and denim jacket. For a more smart look wear them with the shirt and blazer or a t-shirt and a blazer.
Hope you found that post helpful and there will be one less thing to worry about once you decide to hit the shops and find your perfect summer sandals. There is plenty of options out there, try to figure out what works the best for you and your needs. As with everything it's better to go for the timeless design than to go crazy by following the fashion trends. The best summer sandals are the ones that you can wear from day to night, and from the city to the beach. It doesn't restrict your fashion choices and will compliment your summer capsule wardrobe.
If you're looking for more summer styling inspirations over here you can find more of them or follow me on Pinterest where I pin daily outfit inspirations.
And if you plan to build your capsule wardrobe in the summer but are not sure what you like or don't like my new eBook ' How To Build a Minimalist Wardrobe ' is right for you. It will guide you through different body shapes, and styles, touch the colour analysis and help you to declutter your wardrobe. Also, the help of notepads will help you with smart shopping decisions. And thanks to shoppable links and shop dictionary will help you with shopping for the missing items. Once you build your minimalist wardrobe, you will not experience' that you have nothing to wear mornings ', and it also saves you a big chunk of money in the long term.