This post may contains affiliate links. I can make a small commission if you make a purchase through these links at no extra cost to you. This commission helps me maintain my website
Can you believe we have nearly reached half of the summer? Times fly and we got that long-awaited time of holidays, long summer days and well-deserved relaxation. This is the perfect time for self-care. As one of the self-care act, we can consider building a curated summer capsule with the best possible summer staples. It will boost our confidence, something that all of us need in life. And for summer elevated basics are having a moment. Keep it simple and fresh with the right summer staples in neutral colours.
// Tank tops black, beige, white // Summer dress // Skirt // T-shirt // Cami Top //
Shorts // Shirt // Jeans // Linen Trousers and here // Swimsuit // Bikini top and bottom // Flip flops // Hat //
Leather slides or here // Bag // Sunglasses // Skincare
What Are Considered Summer Staples
The Tank Top
Cami Top
White T-shirt
White Shirt
Summer Dress
Casual/Smart Linen Trousers
Simple A-line Skirt
Loose Denim
Shorts
Accessories
Swimwear
Skin Care
The Tank Top
It looks like a simple tank top this year is one of the hottest summer pieces. When designers like Bottega Venetta didn't hesitate to start their catwalks with a simple outfit like jeans and a white tank top, why shouldn't you include it in your summer capsule wardrobe? Quality simple tank tops take you a long way. That summer basic can later be easily incorporated into your fall/winter capsule wardrobe to make it an all-year-round staple.
Cami Top
Cami tops have been here for a long time and it's a staple in the summer wardrobe, but if you like to take this piece to the next level go for a simple neutral piece made of luxurious material. Natural silk is the best option, but more affordable yet still luxurious is the one made of silk satin.
White T-shirt
What can be better than a simple T-shirt? This all-year-round staple needs to be included in a summer capsule wardrobe. It can be styled with anything, it looks great with pair of jeans but also with a skirt. You don't need to splurge on this piece as it gets stained and faded quite easily, but also don't go for the cheapest option, as you'll wear it often.
White Shirt
The versatility of the white shirt doesn't need to be reminded. This staple piece can be also worn at the beach instead of your usual cover-up. It is chicer than a normal sarong. Don't you think so?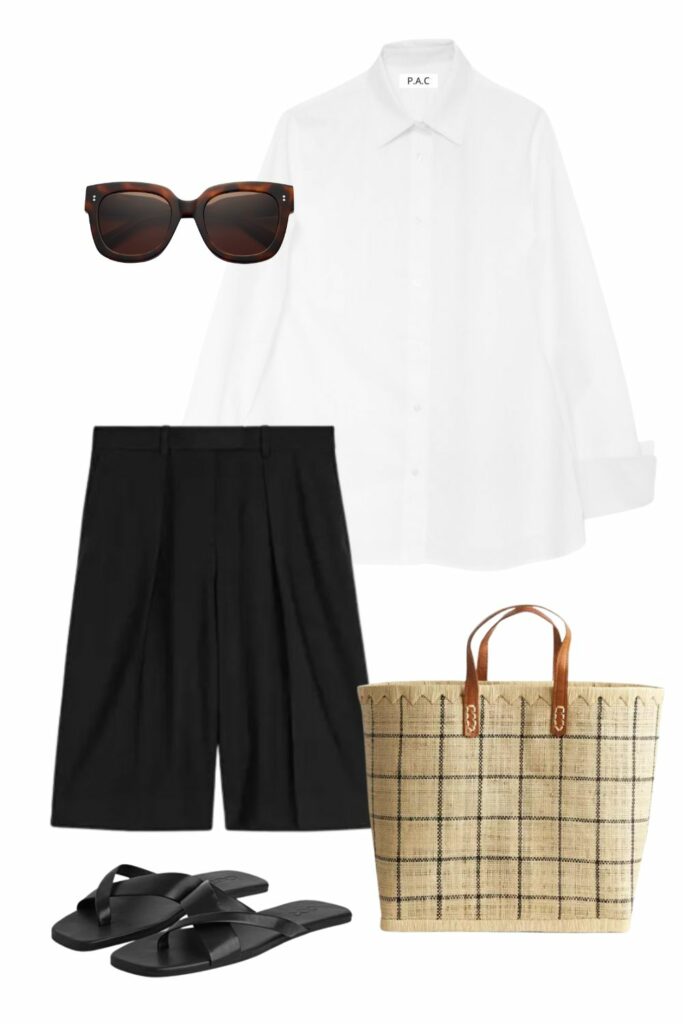 Summer Dress
The slip dress became popular in the 90s but its comeback is so popular that it definitely won't leave any time soon. Who doesn't want to look like a million-dollar baby without the extra effort? If you are not sure if the slip dress is right for you, then any other summer dresses will be perfect to include in your capsule wardrobe. There are so many beautiful, simple or minimalist dresses out there. And if you are fine with the one that is already hanging in your wardrobe then it's even better.
Casual/Smart Linen Trousers
Capsule wardrobes are meant to be built from natural materials. What can be better to include in the summer capsule wardrobe as linen? Linen trousers became a popular staple during the hot summer days, as you have a tailored staple piece that is chic even with the usual crease.
Simple A-line Skirt
An A-line skirt is an excellent option to go for in the summer. It doesn't only work for any body shape but with the extra room, it will keep you nice and fresh during the day. If you opt for a simple minimalist style, you can also transition it from day to night by simply swapping the shoes and a bag.
Loose Denim
We all love denim, but is it still comfortable enough to wear when the temperatures reach high above average? Once we opt for a loose style, straight, boyfriend or any other casual style, we don't need to put denim on side over the heatwaves. Style them with fitted tops, tank tops, wrap tops or silky tops to keep it chic.
Shorts
Shorts are one of the most popular choices to reach for in the summer. They don't look good only on the beach, but they are office appropriate too if you opt for a smarter style.
Accessories
Sunglasses, hat, summer bag and shoes I keep one of each except for shoes. High-quality sunglasses are a must even on the beach. When it comes to hats a simple fedora style is my go-to piece, but last few years we saw bucket hats more than anything else. Whatever the style you should have at least one of them, to keep you safe on the hottest days.
A summer basket is a popular choice when it comes to summer bags, but this raffia bag seems popular in the last few months. It's up to you if you go for a classic French style or if you prefer to keep it modern with the minimalist tote bag.
And as I mentioned all of the above summer accessories are enough if we have them in a single version, but when it comes to shoes, I always opt at least for 2 pairs. Leather slides for town and work and rubber for time spent by the water.
Swimwear
Nothing reminds us of the summer more than swimwear. When swimwear starts popping up in the shops more often, we know the summer is just around the corner. But to find the right swimwear can be challenging. We all want to look our best in swimwear. That's one of the reasons why I got the one piece this year. In a simple black, it is a lovely piece that can be worn as a top worn with jeans, inspired by fashionable French ladies.
Skin Care
I learned that there is no point to try to save some hard earn cash on your summer skin care. We get sunburn; we are in pain and our skin is itchy and dry. To avoid it, the best way is to get a big bottle of sun lotion SPF 50+ for the body and La Roche-Posay's sun cream SPF 50+ for the face and to keep it handy on the go. Also, a sun stick is a great solution for all the easy-to-burn parts like ears, nose and lips.  
If you decided to build your capsule wardrobe it's great, hopefully, you found that post helpful, but remember what is worth it takes time. And to build your best wardrobe takes time. So, take it easy and enjoy the summer.  
If you are looking for some summer outfit inspiration have a look at these articles full of summer outfits:
What to wear to a job interview in the summer
What to pack for the summer holidays with the wedding invitation
How to wear a white shirt in the summer
How to build a summer work capsule wardrobe