This post may contains affiliate links. I can make a small commission if you make a purchase through these links at no extra cost to you. This commission helps me maintain my website
As we getting closer to the winter, we like to add more layers and knitwear is our first choice obviously. But even with the curated capsule wardrobe there are certain styles of knitwear what we consider as necessity. And if you wondering what the types of knitwear you should add to your capsule wardrobe keeps scrolling to check if you have those knits in your wardrobe already or you miss something.
Beige Cardigan // Black Cardigan // Merino Crewneck Knit // Ribbed Knit // Thin Turtleneck // Crewneck Sweater // Chunky Turtleneck Black // Chunky Turtleneck Beige //
The Types of Knitwear You Should Add To Your Capsule Wardrobe
Chunky Knitwear
Crewneck Knitwear
Turtleneck Knitwear
Oversized
Cardigan
Light Knit
Knitted Dress
Trousers // Trench Coat // Crossbody Bag // Trainers //
Chunky Knitwear
Big slouchy chunky sweater is one of my favourite and most worn knit. It looks great with smart trousers, slip skirt and jeans. The versatility of this knit is endless
Jeans // Bag // Sunglasses //
Crewneck Knitwear
The crewneck knitwear is the most popular style. It is easy to style for office or casually for the weekend. In the winter it's a great piece to wear on it's own or over button down shirt. It shouldn't be missed in any capsule wardrobe. The crewneck merino knit makes a great base layer to wear under shirt, blazer or chunkier sweater in really cold winter.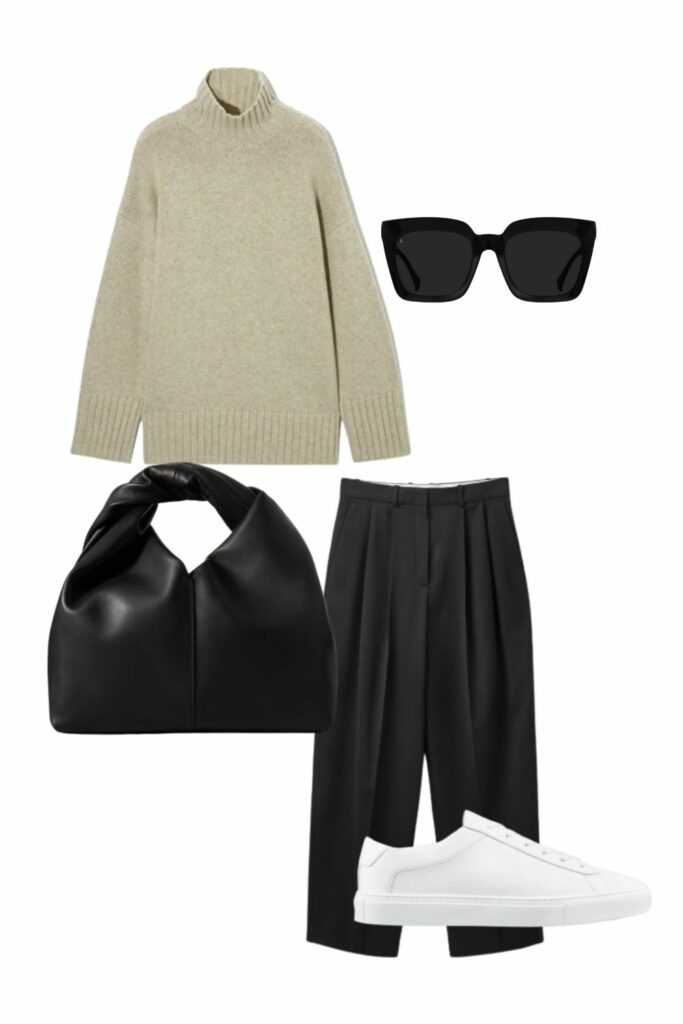 Turtleneck Knitwear
Turtleneck knit is one of the most stylish and timeless pieces in our capsule wardrobes. It makes any outfit to stand out. Wear it with jeans or tailored trouser, under your trench coat and once you add sunglasses you will look like million dollar babe.
Cardigan
In the past few years cardigan gained the lost popularity. The past few years the slouchier style became popular choice of all fashionable ladies. This style is great to wear with tailored trousers to office but also with the jeans and trainers or boots for a weekend.
Oversized Knitwear
As I mentioned before, the oversized fit is one of my favourites fits to wear in the winter. In the oversized knit you will look effortlessly chic without putting too much effort.
// Coat //
Light Knit
Light knitwear is great to wear as a base layer or from early fall to a late spring. It nicely replace any cotton shirts with the extra warmth but without adding additional bulk. The best styles to add to your capsule wardrobe would be merino crewneck and merino turtleneck.
Knitted Dress
Knitted dresses been around for ages, but only in recent years became quite popular. As the styles changed and there is more slouchy styles available. They are a great choice of dress when the temperature falls below zero or is just slightly above the zero. Wear them with tall chunky boots and blazer to create a modern look.
Do you have any of those styles of knitwear in your capsule wardrobe or are you miss anything? Would you add any other style?
For more minimal knitwear outfit inspiration follow me on Pinterest and Instagram.
If you just decided to build your capsule wardrobe, my eBook How To Build a Minimalist Wardrobe will be your right guide along the way. You started to build your capsule wardrobe but you fell like you are not able to do it on your own? Would you prefer to have someone on hand to help you decide what should stay and what should go? Then my capsule wardrobe consultation service is right for you. Book your time with me over here.