This post may contains affiliate links. I can make a small commission if you make a purchase through these links at no extra cost to you. This commission helps me maintain my website
I don't know about you but I've been impatiently waiting for Spring to arrive, but so far it doesn't look promising. 🙁 I stepped further, I started to think of summer. Am I too far? Never mind we can dream, right? No worries, I didn't start shopping for summer clothes, I am still on a shopping detox, do you remember? But I browse for that perfect summer basket bag. That's been on my wishlist for a few years now. I just can't make up my mind which one is the best.  I think you can spot my favourite style straight away.
/1/, /2/, /3 /, /4 old but similar HERE /,/5/, /6/ 
Summer Basket Bags
As I mentioned above I've been browsing for a perfect summer basket bag for a while now. There are so many pretty options, it looks like I just can't decide. It is definitely easier to pick the right shoes and clothes than a bag. Or am I wrong? For me it is. There are so many options that I love. Classic basket bags, Birkin basket – oooh soo French, small basket bags, or a big one? Wicker basket or canvas… and the list goes on. I know it is only a bag and a summer bag.  But not so much anymore! As you could see in my other posts already you can style your summer bag with anything and carry it from early spring to late autumn. With the capsule wardrobe in place, this is a quite big decision.
What To Style It With
With everything. Yes, it's as simple as this. Take your basket bag to work, school, shopping, a family trip or a beach. The basket bags have been here for a while and in the last couple of years, they made it to the top. And I am pretty sure those bags won't go anywhere any time soon.  If you are in a need of one choose wisely, it will be in your wardrobe for a while, especially since the big brands came with their own styles.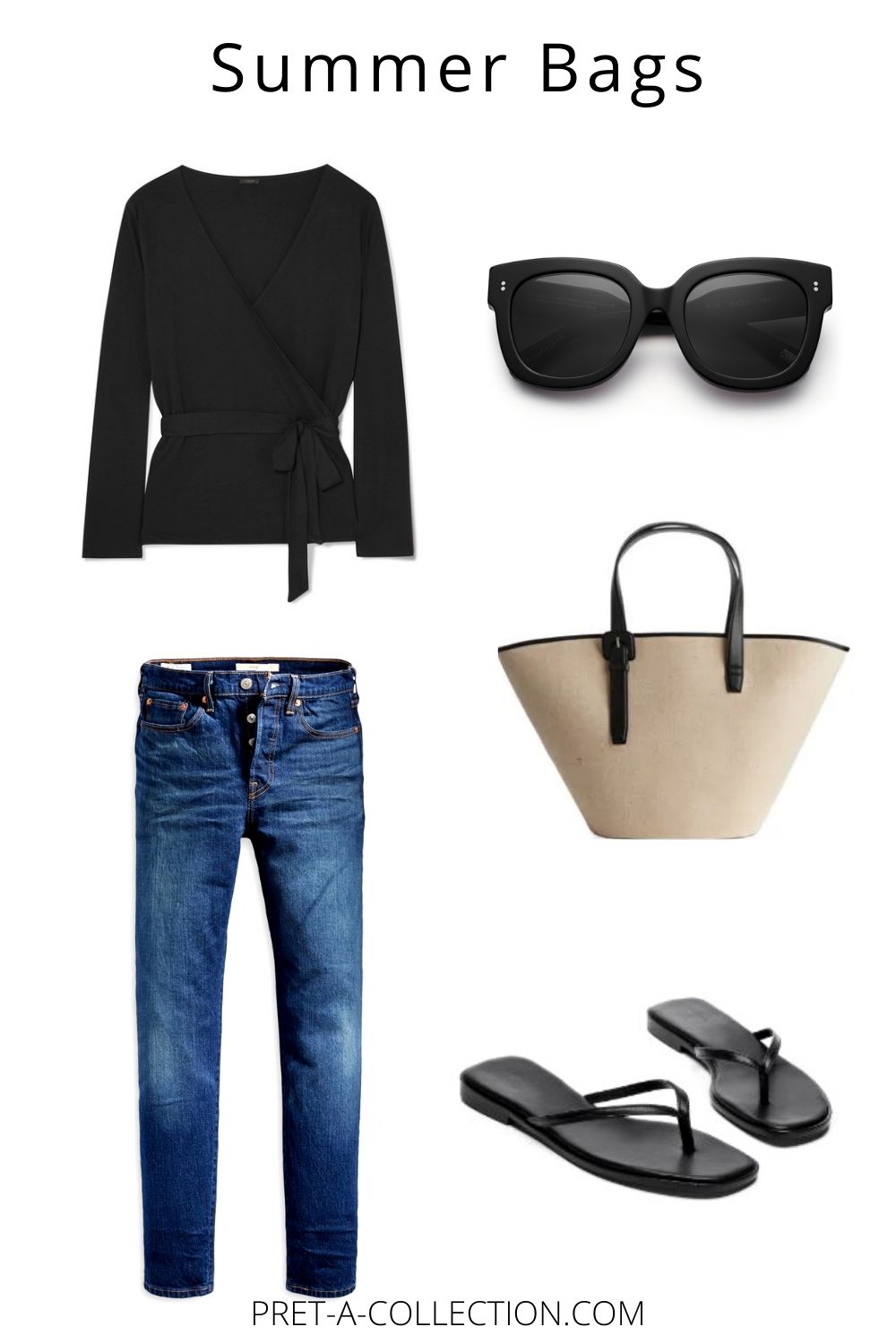 // Jeans // Sunglasses // 
Outfit Inspiration
If you are still in doubt if you should get hands-on your dream basket here are some outfit inspiration.
// Knit // Flowy Skirt // Trenchcoat //
What is your favourite outfit? And what about the basket? Did you find yours? If you have a favourite brand that has a nice selection of summer bags please share it with us in the comments.
Last but not least a little update on starting a fashion line. I picked few more fabrics to get more items for you. I can give you a little sneak peek, 2 items will be summery and 2 all year round. I am really excited about that. It will be something to go well with Flowy Skirt. Did I tell you all items are ready to made to avoid the waste of overproduction but also you can have something really special made only for you. If you have any questions please don't hesitate to get in touch by email, Instagram or Pinterest. It will mean a lot to me to see you there.