This post may contains affiliate links. I can make a small commission if you make a purchase through these links at no extra cost to you. This commission helps me maintain my website
September nearly passed by and there is that glorious time of the year when we are getting ready for the most fashionable months and getting capsule wardrobes ready for fall. For all the fashion and layers lovers who have been here for a while, I put together the Pret a Collection fall 2023 capsule wardrobe. As the time is ticking to change our wardrobes to warmer clothes and chunky sweaters I decided to show you that even from the most minimal capsule wardrobe you can create comfortable yet chic outfits.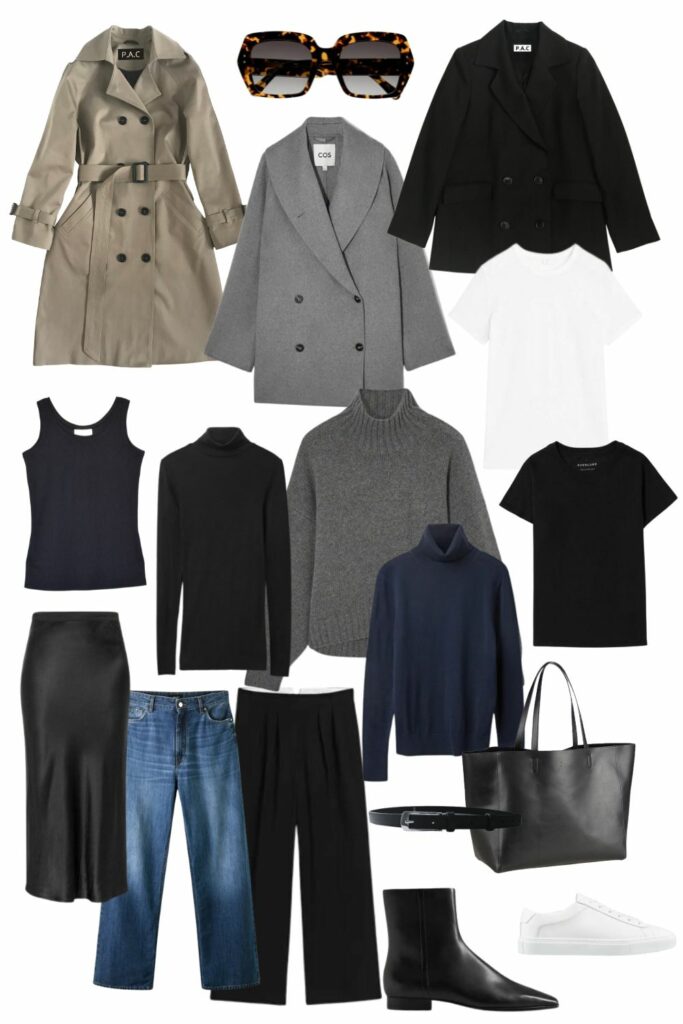 Trench coat // Short wool coat // The classic black blazer // Sunglasses // T-shirts // Tank top // Rollneck // Chunky pure cashmere turtleneck jumper // Knitted rollneck // Satin skirt // Jeans // Trousers // Slim leather belt // Tote leather bag // Leather Boots // White Trainers //
The Pret a Collection Fall 2023 Capsule Wardrobe
Suppose you've been around here for a while. In that case, you already know how keen we are on the concept of capsule wardrobes—a closet full of items that can be mixed and matched with one another for an infinite number of combinations and a permanent fix to your "I don't know what to wear today" tantrums. To help you to ease your morning I created the Pret a Collection fall 2023 capsule wardrobe.
What to include in the fall 2023 capsule wardrobe
Knitwear
Jeans
Wide-leg trousers
T-shirts
Outerwear
Trenchcoat, blazer and wool coat/blazer
Skirt
Shoes
Trainers/boots
As we approach colder months it's always good to stock on all kinds of knitwear. From thin merino base layers, through crewnecks and rollnecks to chunky sweaters. It makes a perfect layering piece with plenty of room to mix and match and keeps you warm as you need to. Knitwear is a perfect piece of clothing that not only keeps you warm and chic but is also great to replace your everyday t-shirts.
Jeans
I don't think I need to mention how important is great pair of jeans is. After months of wearing thinner trousers or skirts, we appreciate even more the perfect pair of jeans. Whether you are a classic style lover or you like to experiment with the more in style piece to add it your fall 2023 capsule wardrobe is a must.
Since the pandemic, most of us have fallen in love with relaxed pairs of trousers and comfortable clothes. And wide-leg fit it's not just that, it is enormously stylish and timeless. The type of trousers that we like to add and keep forever in our wardrobes. So if you haven't added any to your capsule wardrobe yet, I think this is a time to look for one. You won't regret it.
T-shirts
T-shirts are a must in all-year-round wardrobe. They are easy to wear, they always look good and can be easily dressed up and dressed down. In the fall they make a great piece of clothing, once you wear them under a chunkier sweater or even thinner knitwear for the morning. And the warmer afternoons allowed you to wear the t-shirt on its own with the knitwear casually hanging around your shoulders. Personally, I prefer looser fits that look great worn under the blazers.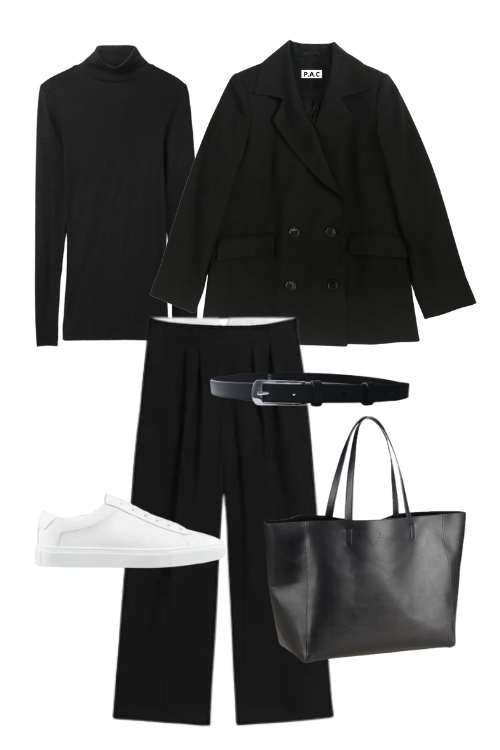 Outerwear
Adding outerwear to your capsule wardrobe is a must. The stylish trench coat, blazer or wool coat/blazer can make even the simplest outfit look effortlessly cool.
Trenchcoat, blazer and wool coat/blazer
Trenchcoat – The oversized fit is timeless and leaves you plenty of room to add an extra layer or two underneath.
The Classic Blazer – a classic piece that women can live without. It is easily transitioned from day to night. From work to after work drink.
Wool coat or wool blazer – it's not necessary to add a wool coat straight away. The shorter version will be more than enough for the first cold days.
It's nice to have a satin skirt in your capsule wardrobe. It gives you more outfit variations. Satin skirts also look chic with a chunky sweater and white trainers.
Shoes
Everyone recommends adding a pair of loafers to a fall capsule wardrobe, but I prefer to include only white trainers and a pair of ankle boots.
Can you imagine anything better than wearing a black outfit with white trainers? I love that. This is one of my most worn and favourite outfits.
As we experience more rain I like to have on hand ankle leather boots. Either wear them with a pair of jeans, wide-leg trousers or even with a satin skirt.
Conclusion
What will be in your fall 2023 capsule wardrobe? Is there something on your wishlist or will you stretch your wardrobe through another season? Anything is fine, as long as it makes you happy. In the end, the most important is your comfort and well-being.
If you are just starting your capsule wardrobe journey in 2023 and would like some guidance, then my capsule wardrobe consultation service might be what you are looking for. Book some time with me here. If you are not sure that you are ready to have me by your side then my How to build a minimalist wardrobe eBook will be there to help you