This post may contains affiliate links. I can make a small commission if you make a purchase through these links at no extra cost to you. This commission helps me maintain my website
We are still enjoying the last few days of summer, but I am pretty sure most of us thinking about the coming autumn. Not just because it's the begging of school, for all of us with the smaller kids, but also it is a fashion enthusiast favourite season. We can go crazy with the layers and create a whole lot of new outfits. If not new at least recreated our favourites from the last year or from spring. I will do the same. As I still shop as little as possible, I will re-wear all pieces that I already own. It is actually the most sustainable fashion approach. To wear pieces that are already in our wardrobes. And this is my minimalist fall wardrobe.
Blazer similar here // Turtleneck  // Shirt // Trench coat // T-shirts and here // Sunglasses // White Top // Black Top // Skirt //  Blue Jeans // Black Jeans //  Sweater and here // Slingbacks // Tote // Trainers 
Minimalist Fall Wardrobe
Maybe you found my minimalist wardrobe too minimal or too restrictive. But that's the exact pieces that I own and what I like to wear. I would consider it as my fall uniform. Over the years I build my style and a perfect capsule wardrobe.  As our lives change so does our wardrobes, but the basics stay. It elevates a bit, in the way we might reach for different styles of the trench coat, sweater, jeans …, but it is still the same item in a different style. A few years ago I opted for a more fitted A-line style of the trench coat, this year it is a looser fit in better quality fabric. It means it takes me through colder days quite easily with the cashmere sweater or even thicker roll neck underneath. And we can't forget that layers are the key once you own minimalist fall wardrobe. Everything has to work together. Might be, you'll think these few pieces are not enough to take me through to the end of November, but all that I need is to swap shoes for ankle boots. I wouldn't change anything else.
What Am I Missing?
Thinner turtleneck sweater. This is high on my wishlist. Not because I don't have one, it's that I need to replace the current one. I am looking for a thinner and fitted style. Preferably in cashmere or merino to lasts me years to come. Something like this or this. Everything is else is already in my wardrobe.
What's New
For some of you who are curious about the updates on my small shop progress. We work on the perfect blazer to accomplish our existing wardrobes. Regarding the fit, I decided to go in the same direction as with the trench coat, slightly oversized fit, but still feminine with all the necessary details. When it comes to fabric I opted for wool with satin lining. At the moment the sample is in making and I should have the first fitting next week. Can't wait to add it to the collection.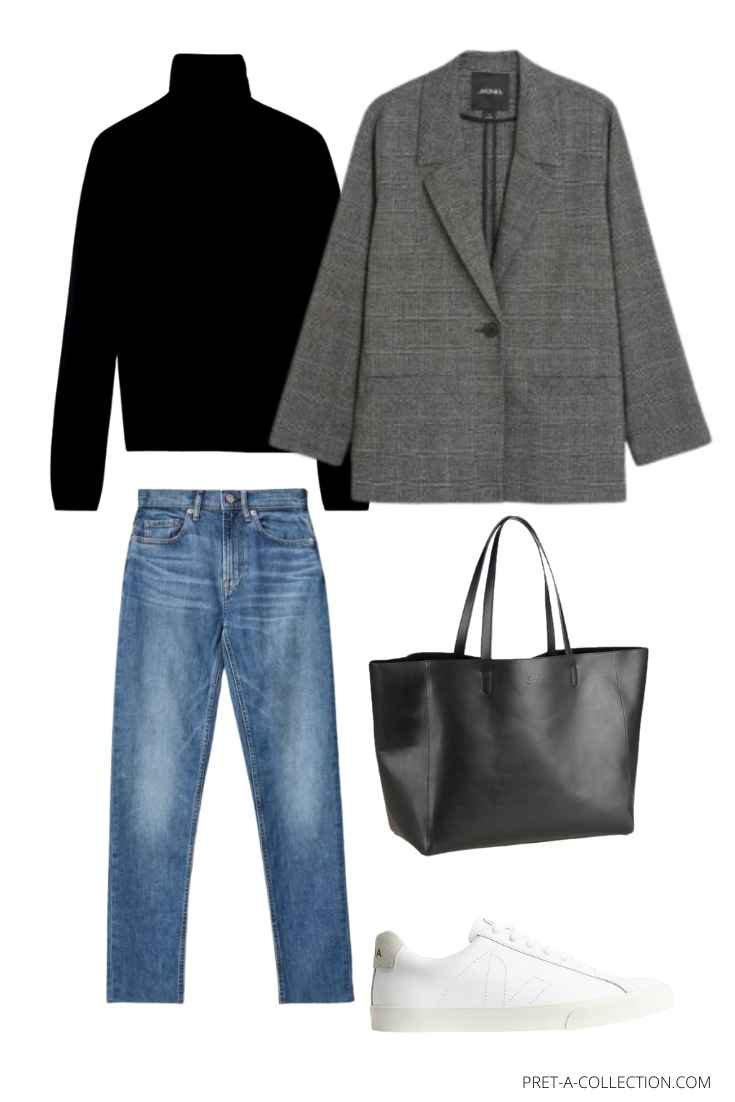 What will you include in your fall capsule wardrobe? What are your favourite pieces for fall? Please share your thoughts in the comments below or post the Pinterest/Instagram link so we can have a look. If you missed my other capsule wardrobe ideas please click this link.
And if you plan to build your capsule wardrobe but are not sure what you like or don't like my new eBook ' How To Build a Minimalist Wardrobe ' is right for you. It will guide you through different body shapes, and styles, touch the colour analysis and help you to declutter your wardrobe. Also, the notepads will help you with smart shopping decisions. And thanks to shoppable links and shop dictionary will help you to brows the shops for the missing items. Once you build your minimalist capsule wardrobe, you will not experience' that you have nothing to wear mornings ', and it also saves you a big chunk of money in the long term