This post may contains affiliate links. I can make a small commission if you make a purchase through these links at no extra cost to you. This commission helps me maintain my website
It's for real. Our favourite season arrived and I am so happy to wear my trench coat again. I didn't wear a single trench until I was 30, could you believe that? And since then the trench coat is part of my all-year-round wardrobe. My first trench coat is still part of my capsule wardrobe. It wasn't an expensive high brand trench, it's actually one from ZARA. But I always look after my items and make them last, and I've been wearing this trench for 8 years.  It doesn't matter if your capsule is budget-friendly or high-end, there are trench coats for everyone. I found some of my favourites styles for every budget below.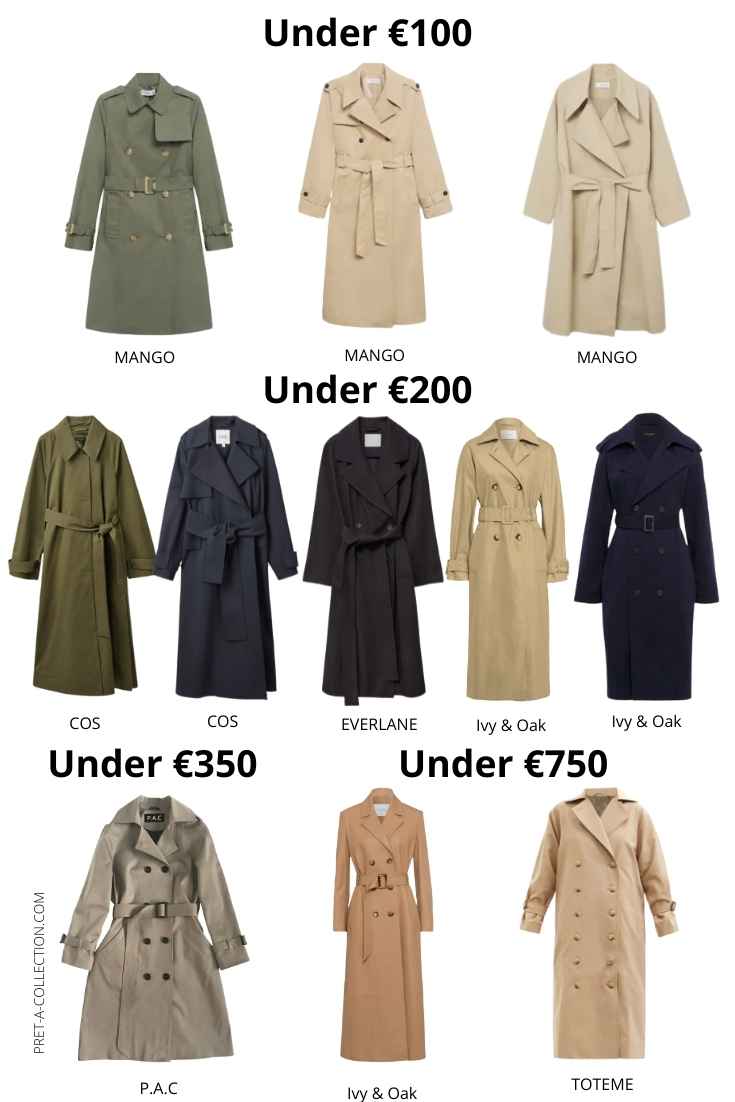 Mango Trench Coats // COS Trench Coats // Ivy & Oak Trench Coats // Everlane // P.A.C Trench Coat // Toteme // 
Women Trench Coats for All Budgets
The trench coat is one of the items that never go out of style. The price depends on the quality of used materials. The iconic Burberry trench is made of cotton gabardine and hand sew. On average it takes a minimum of 6 weeks to sew one single trench coat. But does it really needs to be that expensive? Not to worry, there is plenty of amazing trench coats for any kind of budget and style. To give you some visual idea I made the below collages to style all kinds of trench coats with similar outfits.
T-shirt // Jeans // Loafers // Tote Bag // 
The P.A.C trench coat is made of cotton gabardine and hand sew in a small female-run workshop in Slovakia. It is made locally, not far from our head office. The local production is great for the environment as there is no shipping involved. We also support the local community and other small female-run businesses, as we work only with the small workshops. Our trench coats are made in Petite and Regular fit in a size range of 34-46.
// Sweater //
As you see there is a trench coat for everyone, it just depends on what do you like and what fits your budget. But don't forget the most sustainable option is the one that you already have in your wardrobe. If you like more inspiration to style your trench coat I wrote another post a few years ago that you can find here.
// Trainers //
If you like to get more inspiration for your fall capsule wardrobe please follow my Pinterest where I pin casual-chic outfits daily.
And I hope you'll find your favourite trench coat that will stay in your capsule wardrobe for many years.
// Knit Top //
// Roll neck Top //