This post may contains affiliate links. I can make a small commission if you make a purchase through these links at no extra cost to you. This commission helps me maintain my website
This year fall came a bit earlier at least at our place. I didn't expect to be wearing ankle boots in the middle of September. So it made me think about what fall shoes I'll be actually wearing. I follow the weather, not only the date on the calendar and I went for those fall shoes.
The Fall Shoes What I'll Be Wearing
This year I picked only two pairs of shoes to wear this fall. Of course, it might be adjusted if we have at least a couple of days of Indian summer, but if not, in the fall I'll be wearing only white trainers and leather low heel ankle boots. If, if the weather is really good to us I might reach for loafers or might be even Vivaia slides that are great for transitional weather.
Sweater // Pants // Jacket sold out similar in black // Trainers // Bag // Belt
What Shoes Do You Wear In The Fall?
Did you notice any pattern of what shoes are you actually reaching for the most? I think we always pick something comfy and stylish at the same time. Ankle boots, trainers of any kind, loafers, and ballerinas are all great fall choices. All that it's a matter the most is what kind of climate we live in.
Roll Neck // Pants // Trench Coat // Bag
What Colour Shoes To Wear In Fall
This is really tricky question to follow. Many likes to wear shades of fall, like brown, nude, red or burgundy. Loads of us stick to our favourite colours and occasionally we can step out of our comfort zone and reach unusual colours. I would say any shoe colour will be a great choice as long as it fits our style and makes us fabulous. What I always keep in mind in fall, it is better to be closed toe and higher as rain can come anytime.
Sweater // Jacket and in chequered //
What Kind Of Boots Shall We Wear In Fall
Same as with colour it's difficult to say this or that. It's really a personal choice. But I rather stay in leather shoes. Suede is a quite popular choice as well, but I don't recommend it when it rain, as it might damage the suede and then it's hard to clean them. And keep your boots low, ankle boots are the best option for fall. They are chic and easy to wear and we won't be boiling in them if the weather decides to show the beauty of Indian summer.
// Wrap Blouse //
What To Wear With Sneakers In Fall
If you are like me and you included sneakers in your fall shoe capsule wardrobe, you might be thinking if there are some restrictions in wearing when it comes to outfit choices. Don't worry, sneakers became really popular shoe choice that they even became acceptable in smart casual offices, when they are worn appropriately. Just look at all that French ladies who wear sneakers with smart trousers.
Roll Neck in black // Jeans // Blazer // Tank Top
How To Wear White Sneakers In Fall
You can wear white sneakers in the fall and winter as well. Don't worry that you destroy them in the rain and mud. All that you need to do to protect them from the impregnation layer. Who doesn't like to wear perfectly white trainers, with a trench coat or blazer in the fall? Wear them with the neutral basics and you will be the chicest lady in your neighbourhood.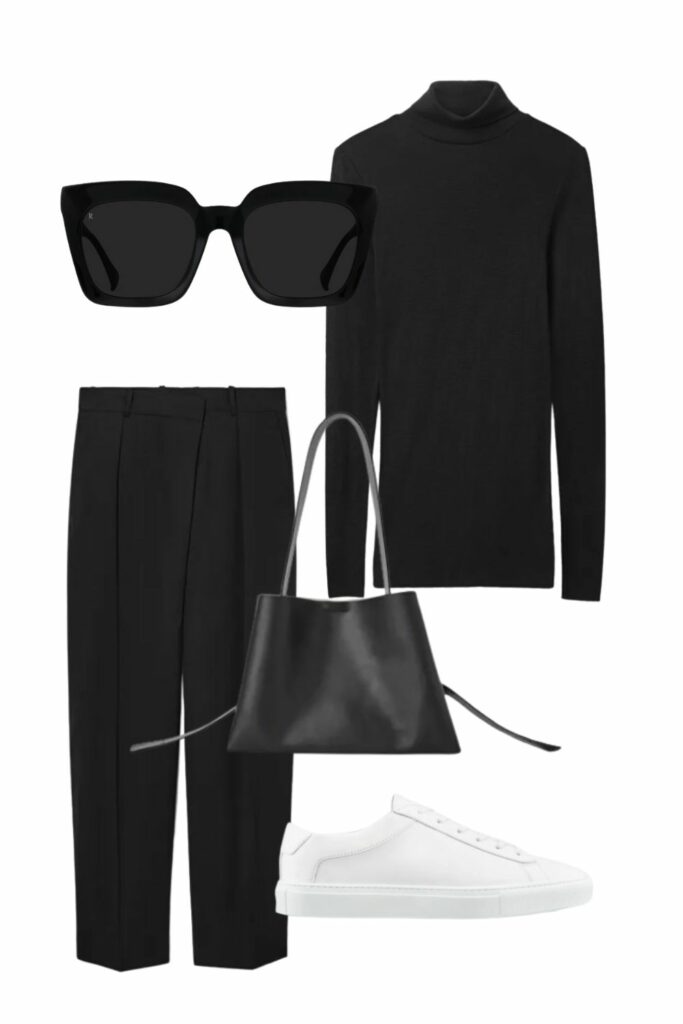 I hope you found this post helpful. But if you're looking for more fall styling inspirations over here you can find more of them or follow me on Pinterest where I pin daily outfit inspirations.
And if you plan to build your capsule wardrobe, but are unsure what you like or don't like my new eBook ' How To Build a Minimalist Wardrobe ' is right for you. It will guide you through different body shapes, and styles, touch the colour analysis and help you to declutter your wardrobe. Also, the help notepads will help you with smart shopping decisions. And thanks to shoppable links and shop dictionary will help you with shopping for the missing items. Once you build your minimalist wardrobe, you will not experience' that you have nothing to wear mornings ', and it also saves you a big chunk of money in the long term.
If you decided that time is right to start/swap your capsule wardrobe here are some old articles for inspiration. 
How To Look Stylish In The Rain
What to wear for late summer and early fall
Minimalist fall wardrobe
Fall wardrobe essentials
Men's fall capsule wardrobe
Fall edition: Stay-at-home mum
How to style fall capsule wardrobe
How to wear a cardigan
Women's trench coats for all budgets
How to wear activewear outside the gym
What to wear when the weather is unpredictable
How to style knitwear
How to style trench coat