This post may contains affiliate links. I can make a small commission if you make a purchase through these links at no extra cost to you. This commission helps me maintain my website
My 2023 New Year's resolution was to get healthier. And part of it is not just getting the right amount of healthy food but mainly getting more active. I was lucky enough to partner up with Fanka – to try on and review some of their pieces. The Fanka is fabricnology ( Fabric + Technology ) oriented apparel brand devoted to making women shine, they offered to try products of my choice. As I wanted to test if it's a good fit for a capsule wardrobe I picked Beyond Nude Yoga Leggings and Pet Hair Free Long Sleeve Shirt. Scroll down to read the whole Fanka review.
Fanka Review
I was so excited when the pinky package arrived. I was a little bit disappointed at first, as I expected it nicely wrapped in a paper bag, but it arrived in plastic until I looked at it a bit closer and learned that the bag can be actually reused. Fastening at the top, together with the little cord on the side can make it a nice travel companion if you need it. It was a nice thoughtful thing to do. Each item comes in separate packaging. As I mentioned above, I picked Pet Hair Free Long Sleeve Top and Beyond Nude Yoga Leggings to try on.
I picked the beyond nude yoga leggings in curiosity. I wanted to test them out from each side of the company promise. To begging with, I like the seamless front. It gives more confidence than the usual yoga pants. I wasn't bothered with the restricted seams as there are none. Also, I like the perfectly shaped bum in them. I wasn't comfortable enough to go panty free, but if you prefer you can do so as there is an antimicrobial liner built-in. The choice is yours. The leggings are designed to feel free to move in, thanks to the 4-way fabric stretch plus antimicrobial and anti-static fabric that creates the perfect bodyline. Those leggings fit so well that they feel like a second skin.
Fit
Fit is true to size. They might seem too small, once you take them out from the pink packet, but as soon as you pull them on, they fit really nicely. The compress fit is amazing. There is only one restriction, and it's slightly tighter waist stitches. You know the top of the waistband, comes slightly tighter than the rest of the leggings. But it might stretch with time. The beyond nude yoga leggings are high-waisted and they tuck the tummy in really nicely. Even my C-section scar bump wasn't visible.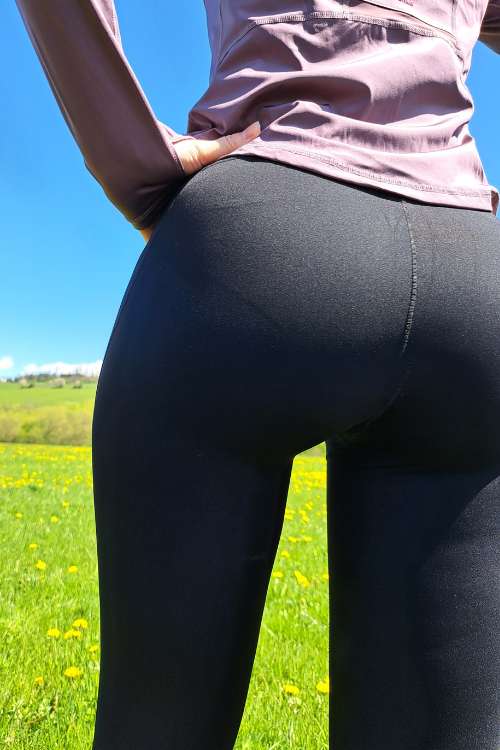 Special Features
Side pockets
I found those side pockets really practical. Perfect to slip in a phone of any size. Or a key if you need to.
Variable length
I didn't come up to the clothes, especially the pants where you can adjust the length as easily as beyond nude yoga leggings. Simply cut them off to your desired length. Personally, I like them as they are. I was worried that I will need to cut them off, but they are the perfect length for me. I never came to the leggings that fit me, length-wise, so well.
At first, I was a little sceptical, but as I hate to have pet hair all over my clothes I was really curious to try on this top. I couldn't even imagine how it was possible to shake off the pet's hair from the top. Usually, it's really static. But whoever came up with the idea to develop this fabric did a great job. The top is really Anti-static and I can confirm it's really pet hair-free top, yet smooth to the touch. If you're fed up to have a pet's hair all over your clothes this top is right for you. The pet hair-free leggings are available too.
Fit
Regarding the fit, it is a slim fitted top, but on a looser side. It has a nice shape but it's not a skin-tight. Also, I would say it comes quite short. For reference, I am only 160cm tall, but as you can see in the pictures it just reaches my hips. What is good for yoga, but if you prefer something longer I would suggest sizing up.
Special Features
The Pet hair-free long-sleeve top comes in thicker fabric but it's still really smooth to the touch, it feels like second skin. It has perfect thermoregulation as it kept me nicely cool in the sun, and warm enough in the breeze.
I found the thumb hole really practical. It is a good replacement for gloves when needed and keeps the sleeves in place when you stretch the arms.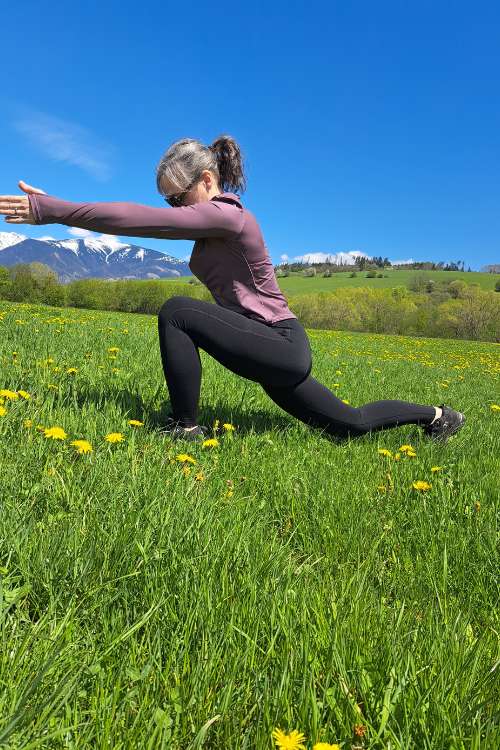 Conclusion
The result of this try-on. I really like the fit, feel and overall Fanka clothes. The clothes fit as promised, and the feel of the fabric is really nice and easy to move in. Both garments are designed with the highest quality in mind for what they are meant to be worn for. I highly recommend Beyond Nude Yoga Leggings and even Pet hair-free long-sleeve top. Last but not least, Fanka offered 12% off on all orders to my readers with the exclusive code PRET.