This post may contains affiliate links. I can make a small commission if you make a purchase through these links at no extra cost to you. This commission helps me maintain my website
It looks like the world is getting back to normal, or at least we are getting in a good direction. It means we can travel again and many of us can't wait to go anywhere this spring. To spend a few days on the beach, or a little city gateway or a bit of both would be ideal. Or might be a little spa retreat? Not sure yet? Or did you book your holidays already but you have no idea what to pack as we didn't travel for a while? I feel the same, so this little spring travel capsule wardrobe can be easily mixed and matched and worn for many occasions and destinations.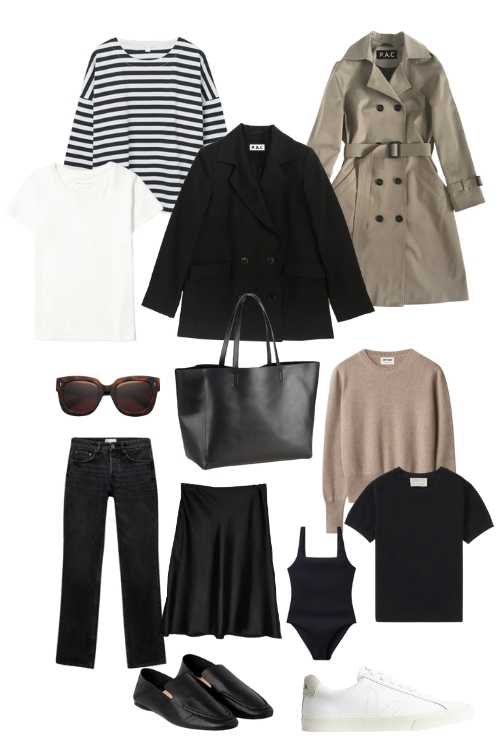 T-shirt // Stripe T-shirt // Blazer // Trench Coat // Sunglasses // Tote Bag // Jeans // Skirt // Crew Neck //
Short-Sleeve Knit  // Trainers //
Spring Travel Wardrobe
Capsule wardrobes usually don't contain a huge amount of stuff, and from that little amount of stuff, we should create our ideal travel wardrobes as well. You can take it as little challenge, depending on the length of your stay. You can try to create little collages, put your own stuff together, create outfits before your travel and use it as your guide while you are away. It saves you so much time while you are at the destination. You won't overpack as you probably did before. You'll be ready for all activities that you planned to do on your holidays. I prepared a few travel capsule wardrobes before I travelled and it seriously took all the stress away from packing, it saved so much space as I didn't take clothes ' just in case ' and that case never happened.
Plan Your Stay
This part is quite important if you don't want to overpack and take only items that you actually use and wear. Plan where you'll stay, what you can do at the hotel, what you want to do and see. It will give you a clear idea of the items that you wear while you'll there. It's no point in packing a swimsuit if there is no sign of a pool in the hotel or beach nearby.  The same goes for shoes, bags, outerwear and every single item that you plan to take on your trip.
Pack The Most Versatile Pieces
If you've been living with your capsule wardrobe for a while, you know that versatility is the key. To wear one item many ways or differently is important and the easiest way how to change the look quickly and effortlessly. Let's take the shirt. If it's in oversized style, you can wear it on its own over the swimsuit, if you stay by the beach, or you can wear it with jeans for an everyday look and if it has an extra button to wear it as a wrap top, that it can be worn for dinner.  Crewneck knit can be worn as a scarf as well if needed. And the loafers as mules once they are made of soft leather.
Add Something Extra
When I go on holiday I try to pack something extra. No extra clothes, extra accessories. Bright lipstick is a good start. The shade that you wouldn't wear normally is a good start. Or a necklace that you normally feel it's too much for work can be a nice touch on a holiday. That extra touch gives you an extra holiday feel. And if you wear it back home again it will remind you of a nice time that you had.
Layers on Layers
If the place where you plan to go, is not the warmest one yet, considered to pack the clothes that look great once you wear them as an extra layer.
Hope this little guide helps you to enjoy your spring break and pack as little as possible.
If you like to get more inspiration on how to travel light for your holidays wherever you go. Or if you like to see my real life capsule wardrobe then follow me on Instagram.