This post may contains affiliate links. I can make a small commission if you make a purchase through these links at no extra cost to you. This commission helps me maintain my website
What do you can't imagine your summer wardrobe without? Is it some kind of top? Shorts or dress? Or anything else? For many of us, it's a pair of white jeans. If the pair of white jeans is a staple in your wardrobe or you have just purchased your new pair of jeans, and still wondering how to wear them, this post is for you. Little inspiration what looks the best with the pair of white jeans.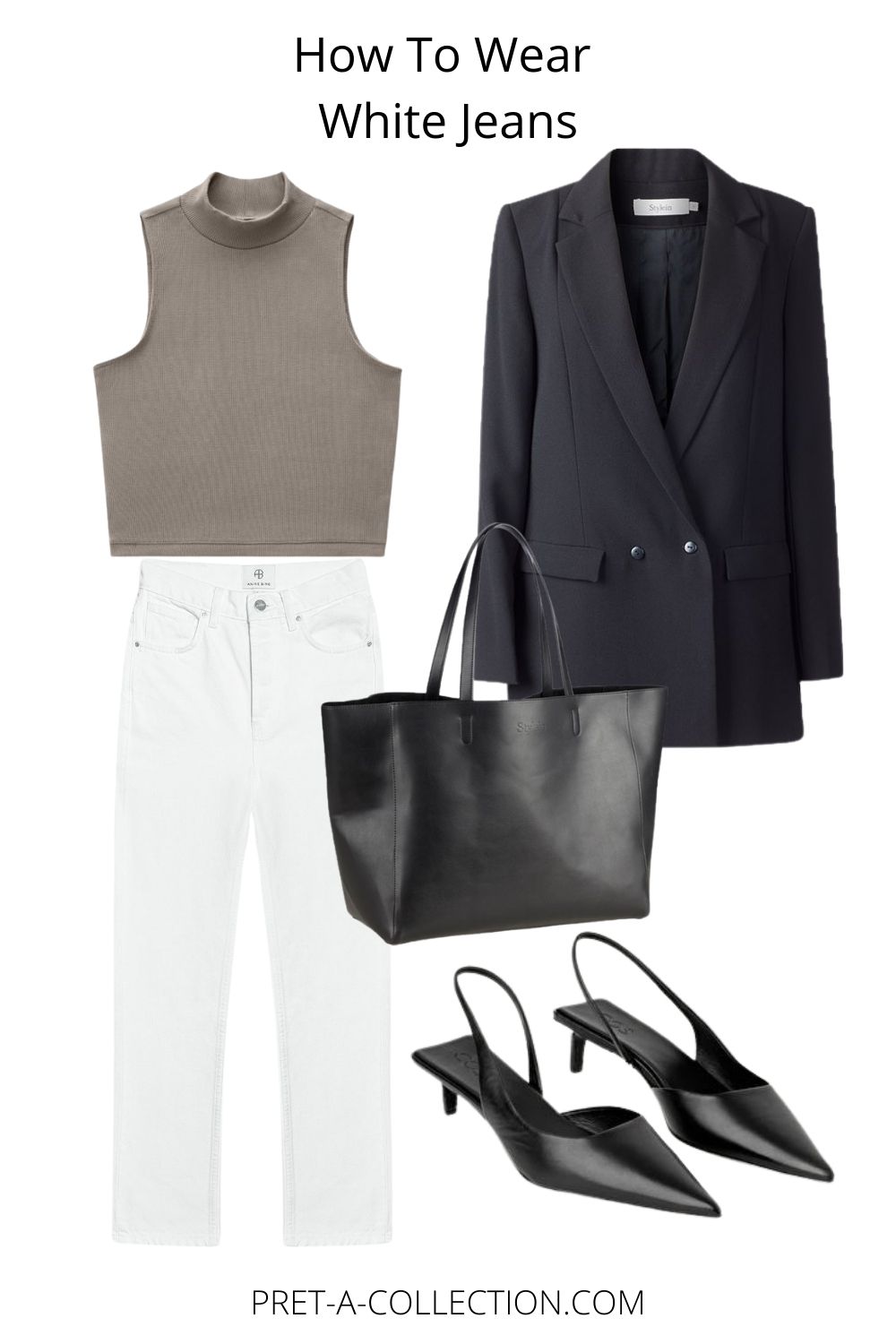 // Jeans // Top // Blazer // Tote // Shoes //
How To Wear White Jeans
Do you need to work from the office? Not a problem to wear your jeans, smarten the look by adding a blazer or keep it completely monochromatic. Isn't it a timeless combination?
In the Nude Tones
Keep your outfit timeless and classy by adding nude tones. If you think it's boring, just look at all the stylish french ladies. If they can look so good in neutrals, why we wouldn't be? Or by adding a statement bag you will make your outfit stand out from the crowd.
// Shirt // Basket Bag // Sandals similar here // 
All White Outfit
Do you think you can't wear your favourite white shirt with white jeans? That's not right. You should wear it, for an effortless summer look.  Brake the outfit with the natural-toned bag and black sandals.
Wear It To The Beach
What is so effortlessly cool about french girls posing on the balcony with the stunning sea view? I am not really sure, but I noticed most of them wear their swimsuits with the white jeans on these pictures. And if you take the basket, you are ready to hit the beach even in the most expensive resort. Btw, you don't need to change for dinner either as this outfit looks amazing anywhere.
// T-shirt // 
Timeless Stripes
When someone says white jeans, first what comes to my mind is to wear them with a striped tee, basket bag and slides.  That kind of outfit screams summer and french to me. It's so classy, elegant and timeless approved by so many fashionable ladies like Audrey Hepburn or Jackie Kennedy. So if you are in doubt at the days when you have nothing to wear, grab that combo. And if there is a bit chilly throw the trench over the shoulders.
// Top //
If you still feeling stuck have a look at my other styling posts for a bit more inspiration. If you like to have even more inspiration check my Pinterest where I pin new pins daily.
Before we go, I would like to remind you that I offer you 20% off from my entire collection, the full code is THANKYOU20. ( needs to be provided at the checkout to claim the discount )  It is a little thanks to all my readers for being here and supporting me. The code is valid only for a week, until 11/07/2021. So if you fancy something or you are in need of anything this is the right time.
How do you like to wear your white jeans if you have one? Will you or would you add a pair of white jeans to your wardrobe? Looking forward to your comments below.