Pret a Collection Wrap Top
This post may contains affiliate links. I can make a small commission if you make a purchase through these links at no extra cost to you. This commission helps me maintain my website
Once you start building your capsule wardrobe, or at least curated wardrobe, you might realise that you would like to have something more dressed up, but still suitable for everyday wear. The design is precisely the same, at least for me. I love my essential pieces, but I would love to create something more feminine but simple and clean to match the rest of my designs. And the Wrap Top is precisely that kind of item. Simple and clean but with a feminine touch. Still wearable every day.
You might be wondering why I wanted to design a wrap top. It's simple, it is feminine, lightweight for summer, suitable for all occasions and most importantly suitable for any shape and size. What not to love about it. Right?
What Is It Made Of
As you probably know I prefer to design my collection from luxurious and natural materials. The wrap top is made of pure cotton. 100% natural premium cotton, without any added elastane. It is really lightweight, breathable material certified by Oeko-tex standard 100 class 1.
Where Is It Made
The Pret a Collection Wrap Top is made in the same small studio, female-run as all other items from the collection. As the studio is based close to our headquarter, we so as our clothes don't need to travel long distance so we are safe for our environment. By purchasing our clothes, you are supporting small businesses in Slovakia/EU.
Special Details
Pret a Collection Wrap Top is designed with a few details that make wearing the top more interesting. Let's start with the sleeves, it doesn't only have a drop shoulder, oversized style but also splits at the end of the sleeves. It gives your gestures a bit more wow effect once you communicate. ???? And I can't forget the straps, long wide straps. You can wrap the top safely with those long enough straps, either once or wrap it around yourself twice if you don't like leaving long ends flapping around you. The bottom of the top is slightly rounded to leave an interesting detail when you wear it over your trousers or skirts.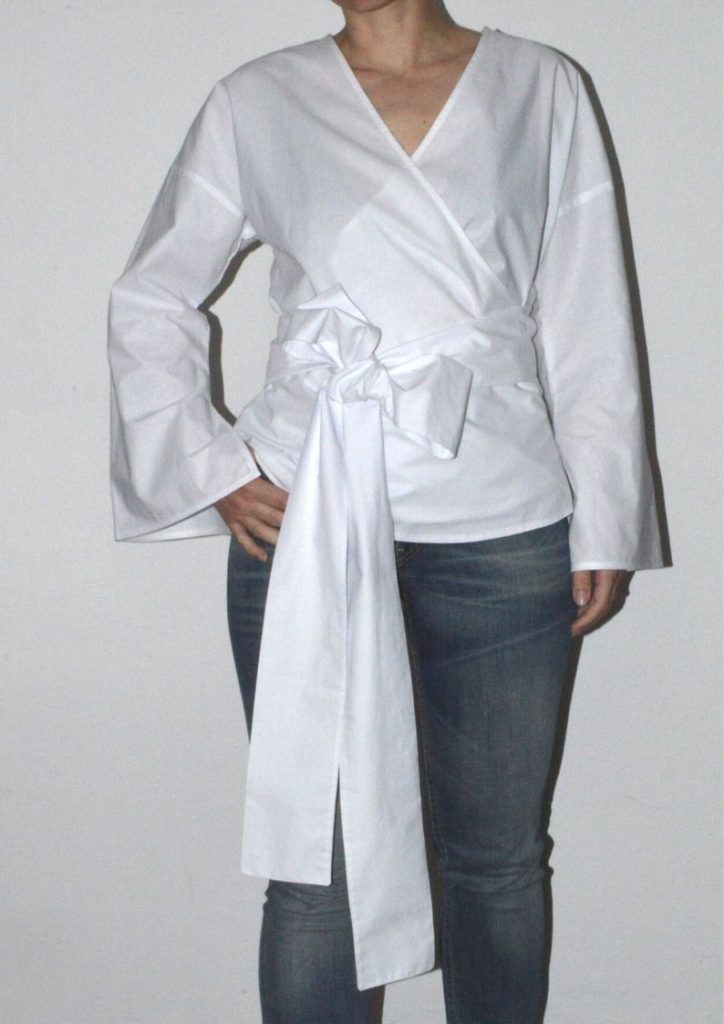 What To Wear with The Wrap Top
I like to wear this top with jeans, and linen pants for a casual day out. Once paired with the sandals or slides you have a comfortable outfit, but smart enough if it's required. The wrap top also looks really nice worn with the simple skirt, wear it with heels to the office or with slides or trainers for a weekend outing.
Hope you like my newest item in the P.A.C. collection. Don't forget that all items are made to order, so by purchasing one of them you will have your unique piece made just for you. We also do the made to measure if you are not sure what size you are or you are between the sizes. What are you waiting for? Shop your unique pieces to love for years here. Psst …, more summer pieces will launch over the week. 😉
And if you didn't start to build your capsule wardrobe yet and you are not sure what you like or don't like my new eBook ' How To Build a Minimalist Wardrobe ' is right for you. It will guide you through different body shapes, and styles, touch the colour analysis and help you to declutter your wardrobe. Also, the help of notepads will help you with smart shopping decisions. And thanks to shoppable links and shop dictionary will help you with shopping for the missing items. Once you build your minimalist wardrobe, you will not experience' that you have nothing to wear mornings ', and it also saves you a big chunk of money in the long term.