This post may contains affiliate links. I can make a small commission if you make a purchase through these links at no extra cost to you. This commission helps me maintain my website
Are you wondering what to wear with the beige pants? Keep reading and scrolling to show you some perfectly curated outfits. Lately, I see more and more fashionable ladies wearing wide-leg pants in the streets and in magazines. It looks like the skinny trend is over and we moved to more relaxed styles. It is probably the trend coming and going, but I can tell you that I have had my smart black wide-leg pants for over 10 years and I never felt like I am out of fashion when I wear them. I guess it depends on the style and personal preferences. As I found that style is timeless I decided to add a beige to my capsule wardrobe. But before I find the right pair of beige pants I like to plan ahead to see what to wear with the beige pants.
What To Wear With The Beige Pants
Lately, I love to wear my wide-leg pants with a white T-shirt and white trainers. Such a classic casual look. But the smart look and fit of the trousers make it still appropriate for the office. If you wear them with heels you are ready for any kind of meeting or situation.
Classic Wide Leg Fit
Many women are, I would say, really careful to wear wide-leg pants, they think they are either short or that they have a body shape that doesn't suit the kind of look. But that shouldn't be the case. The wide fit of the pants makes the body silhouette nice and tall. If you get long pants and they get to cover the shoes or at least they reach the bottom of the shoes the silhouette will be optically longer for the petite ladies. So what to worry about? Give it a try. One more thing to remember they need to fit nicely around your waist and bum. Otherwise, you will look rather sad than confident.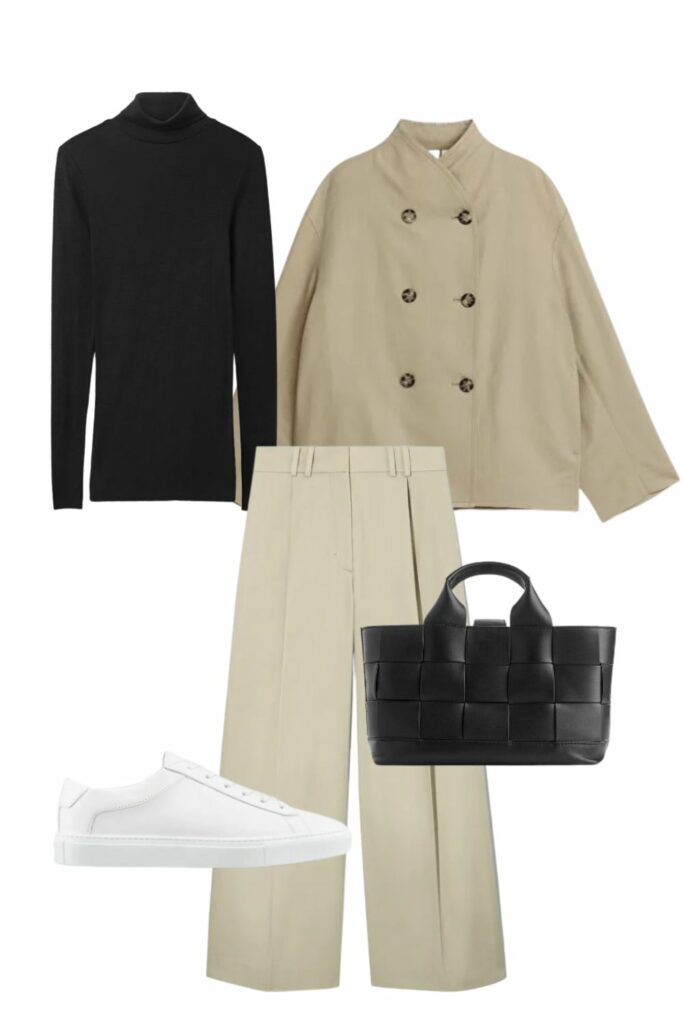 Rollneck // Jacket // Leather Bag
What To Wear With Beige Wide-Leg Pants
It is one of the classic pieces in your capsule wardrobe. So whatever you'll go for will definitely match your pants. If you like to wear your wide-leg pants for work, wear them with heels and a white tee for a smart casual look. Once you add a bright red lipstick you will shine on a Monday morning. Or if you want to wear them for a weekend, go for stripes and trainers and a biker jacket you will create a killer look. For a classic feminine look wear them with the tight top or blouse.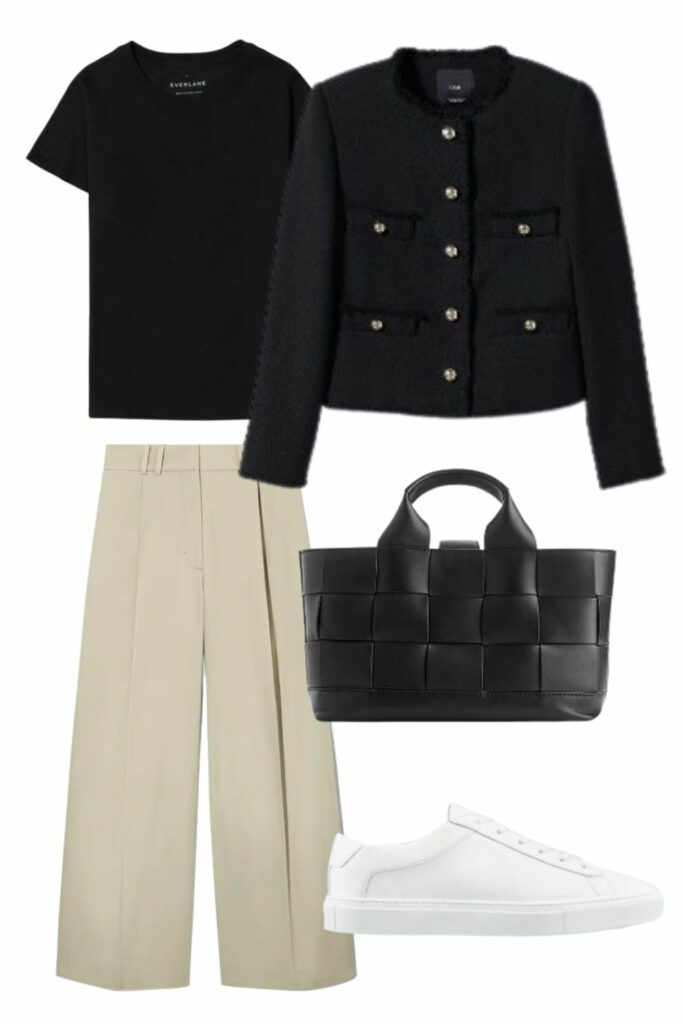 T-shirt // Tweed Jacket //
What To Wear With The Beige Pants In The Summer
Wide-leg beige pants are actually one of the best pieces for summer. They can be dressed up or down. Worn on chillier summer nights or days with white trainers and a blazer and on hot summer days style them with a tank top or a white t-shirt, slides and don't forget your basket bag. Do you think there is a better summer pair of pants than wide-leg in beige?
What do you think of the wide-leg pants? Did I reassure you that wide-leg pants are not such a bad idea? or are you still a strictly slim-leg pants girl? Let me know in the comments. If you like to get more inspiration on  How To Style the pieces from your versatile capsule wardrobe keep reading over here.
And if you plan to build your capsule wardrobe in the summer but are not sure what you like or don't like my new eBook ' How To Build a Minimalist Wardrobe ' is right for you. It will guide you through different body shapes, and styles, touch the colour analysis and help you to declutter your wardrobe. Also, the help notepads will help you with smart shopping decisions. And thanks to shoppable links and shop dictionary will help you with shopping for the missing items. Once you build your minimalist wardrobe, you will not experience' that you have nothing to wear mornings ', and it also saves you a big chunk of money in the long term.
Or have you started to build your capsule wardrobe but you would need a bit of help? Then my consultation service is right for you. I will spend as much time as necessary to build a perfect capsule wardrobe that suits your lifestyle and compliment your style.