This post may contains affiliate links. I can make a small commission if you make a purchase through these links at no extra cost to you. This commission helps me maintain my website
In today's day and age, fashion is constantly changing. It can be hard to keep up with what to wear on daily basis. If you are over the age of 50, you may find it challenging! In order to help make your life easier, I have put together a list of some capsule wardrobe items for over 50-year-olds that will help simplify your life while still being fashionable!
Is a Capsule Wardrobe Right for You?
It is a great idea for anyone who wants to simplify their life. However, capsule wardrobes are particularly useful if you have an active lifestyle and want to look good at the same time. Instead of having to think about what clothes you're going to wear each day, capsule wardrobe items give you everything that you need! I personally think that 50 is the perfect time to start your own capsule wardrobe and here's why:
You Can Still Wear What you Like!
I know that the word "capsule" makes you think of limited options, but this is not true at all! A capsule wardrobe allows you to choose any clothing items that are your favourites. You can even mix and match different pieces from different wardrobes if it works for your outfit.
You will have less laundry to do!
I'm sure that you're all too familiar with the idea of having to do laundry every week. This can be time-consuming and annoying, especially if your clothing items are mostly black or navy blue! Capsule wardrobe basics are neutral colors, so you won't have to worry about them getting dirty too easily.
You'll make fewer outfit mistakes!
It's always nice to have a few staple pieces in your wardrobe. For instance, you can never go wrong with black skinny jeans! They are super versatile and flattering for any shape or size. You can dress them up or down depending on the occasion. I would also recommend a black dress, a shirt or an oversized top. A trench coat is another great staple piece for layering in the wintertime!
A black dress can be worn with flat boots and a brown leather bag to match it. If you prefer heels, wear them with your black skinny jeans and black blazer. You'll look very chic indeed!
You'll save money!
Your closet will be more organized! You might even want to take a look at your entire wardrobe and consider what you need. This may help reduce the waste of clothing that is still in good condition but no longer fits or suits you. And why not donate your old clothes to charity!
Maintaining capsule wardrobe essentials is easy!
A capsule wardrobe is all about having a set of essential pieces that can be mixed and matched to create many different outfits. The great thing about capsule wardrobes is that you would never have to worry about buying new clothes again! You simply need to replenish your wardrobe essentials over time and you will never go wrong.
Understand your Strengths and Weaknesses
When it comes to fashion. If you are confident in your appearance, then wearing a variety of different clothing items is great! If you feel like clothes don't look good on you or that they make you feel self-conscious, then choose outfits with pieces that can be mixed and matched easily. This way, you can pull together different looks each day with the same pieces.
For example, you might build your capsule wardrobe around a favorite pair of jeans (or several pairs). You can experiment but keep the looks basic and interchangeable. As you learn more about your personal style and get comfortable with the clothes in your wardrobe, expand to include a few pieces that might be considered outside of your comfort zone.
You may have some favorite clothing items from before age 50 or so – don't feel like you need to give up wearing them. Just pair them with something that makes it feel modern and fresh, such as a new bag or shoes.
If you're just starting to build your wardrobe from scratch, take some time to learn more about what's in fashion right now. Again, keep things basic while you experiment; don't try out several trends at once unless you're feeling confident.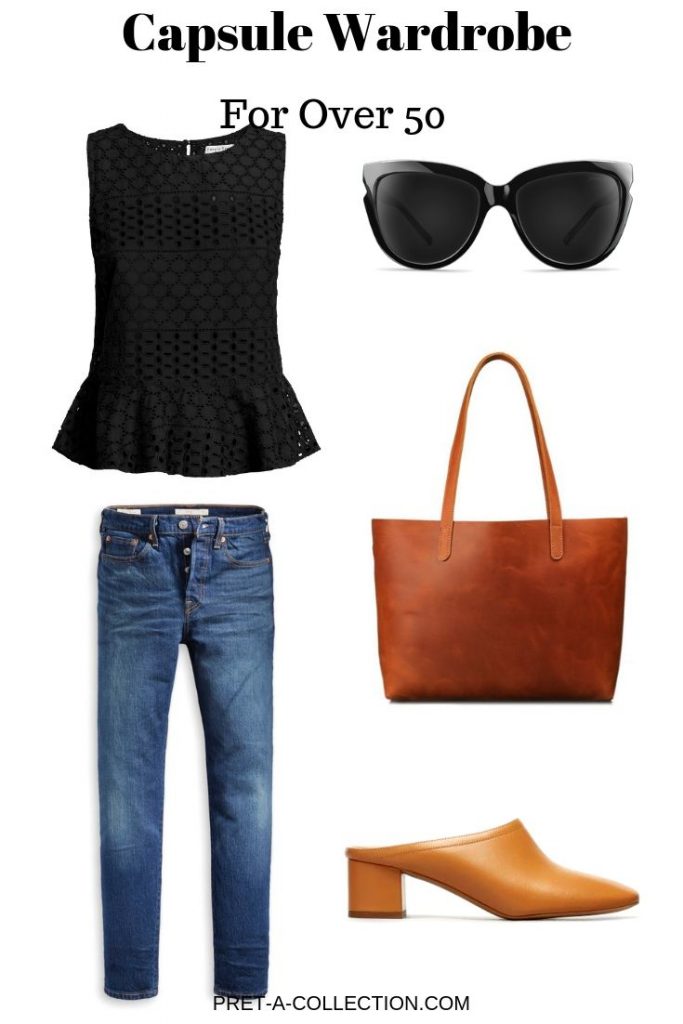 Here are a Few Things to Keep in Mind as You Build Your Capsule Wardrobe for Over 50:
-Wear clothes that fit well and feel comfortable
-Make sure your clothes are clean and in good condition before you wear them so they look their best!
-If the weather permits it, think about layering different pieces of clothing together to create multiple outfits with just a few items.
For inspiration and ideas for what to wear I have put together a Pinterest board. I like stripe tees and sleeveless tops because they look good on me no matter what my age is, but you might prefer other colors or styles of clothes too.
You can't go wrong with pointy shoes!
They make your legs look toned and let everyone know that you are still stylish.
What is Essential for your Wardrobe
The basic wardrobe is the same for everyone over 50. You need basics, basics and basics! No matter what your personal style or body type is, you will always be able to create a great outfit by adding the same pieces of clothing any time you want.
You shouldn't be afraid to experiment but keep the looks to the basics and neutral colors. This way you can add an extra touch of style and make the basics look different every time.
Also, baggy clothes are your best friend because they hide a multitude of baggy clothes hide multitude of sins, lumps and bumps. If slim-fit t-shirt or top looks good on you, wear them with pleasure and combine with more fitted pieces.
This way you can create lots of outfits that will keep you warm during fall/winter days without being too bulky.
What do We Recommend?
Every person over 50 should have a variety of different clothing items to create many outfits. In order to do this, you will need basics and not just one or two pieces that can be worn only once.
You must keep your wardrobe essentials versatile so they can be mixed and matched easily with other items in your capsule wardrobe for over 50.
Build your perfect well-fitted wardrobe and include the following pieces: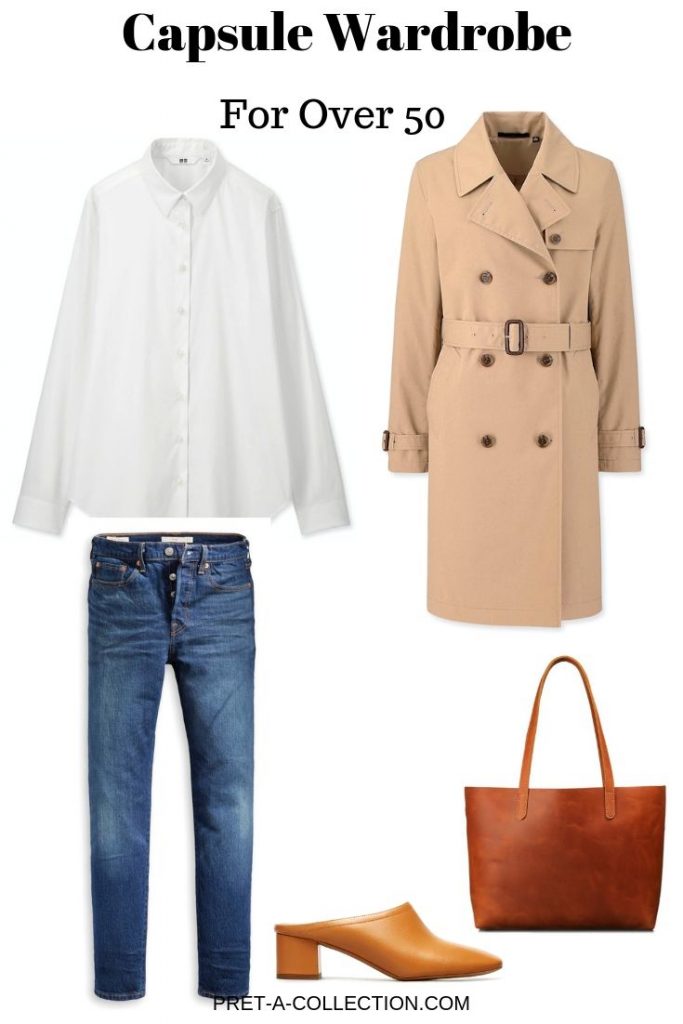 White Button-Down Shirt –  A well-fitted and crisp white shirt is a perfect addition to any over-50's wardrobe. Pair it with jeans or trousers, wear tucked in, or leave it untucked; this piece will always look great! A tighter fit gives you a more polished look but if you don't feel comfortable swap it to a looser fit with the statement accessories.
Blouse – Blouses are another great addition to your wardrobe. Choose from solid colors or patterns. You can wear them with jeans or trousers, either tucked in or untucked! Pants – Skinny style is great option but if you don't feel comfortable wearing them, go for a more relaxed style.
Short-Sleeve/Sleeveless Top – Keep your style modern by adding short-sleeve/ sleeveless tops to your wardrobe. They are perfect for summer days and will look good with any style of pants or skirt. You can wear them with jeans, but a pencil style is a great option!
T-Shirt – A great staple for any over 50's wardrobe that you can combine with practically everything. Wear it under blazers and suit jackets to create a work outfit; pair it with skirts and trousers, easy-going pants or skirts.
Bretton Stripe Top – This timeless piece is another must-have for any over 50's wardrobe. You can wear it with almost everything and you will always look great! From jeans to skirts, this striped top looks good both tucked in or untucked. It may be a skinny fit but if you don't feel comfortable go for a looser fit instead. Striped looks are amazing in any age wardrobe.
Straight Mid/High Waist Jeans – This type of jeans is perfect for any age. You can wear them with t-shirts, blouses or button-down shirts; they are comfortable and flattering on most body types! They Look amazing with heels or flats. And well-fitted blazer makes them look professionally chic.
Leggings – Leggings are another must-have item that you should include in your capsule wardrobe because they will look good with practically everything from t-shirts to tunics. You can wear them with tights or boots, either on casual or workdays!
Skirts – Pencil skirts are another staple for every over 50's wardrobe because they look good both in the office and outside of it. The most important thing about this item is that you should try wearing them with different shoes. They are very versatile and you should always have them handy in your closet! And if you don't wear a work pencil skirt all the time then a great option is a full skirt or anything with the length a few centimetres under the knee.
Trousers – Whether you prefer skinny or wide-leg trousers they are perfect to pair with blouses and sweaters! As I have mentioned above they look good with flats and sneakers but also great with heels. You know what fits you the best but I always go for High-waist or Mid-waist.
Little Black Dress – one of my favourites, the little black dress is a must-have for any wardrobe. The most important thing here is to choose one that fits you well and always looks good on your figure! If it doesn't, then swap it with another style or colour. You can wear this piece on almost every occasion so invest in classic and timeless styles and silhouettes.
Blazer/ Trench coat / Winter coat – A great investment, blazers are a must in every over 50's wardrobe. They look good with dresses and skirts but also in combination with trousers and jeans! And don't forget about the trench coats or winter coats for when it gets colder outside; they will keep you warm while looking chic at the same time. I also love jackets – they are a great addition to any wardrobe. They look good with trousers, jeans or skirts; you can wear them on casual as well as more formal occasions!
Accessories – Accessorize with scarves of different sizes, colours, and patterns. They are a great way to add extra color to your outfits! Also, you can wear statement necklaces or earrings but make sure that they are selected appropriately for the occasion. As for the shoes go for flats during weekdays and heels during weekends a silk scarf, wool scarf, a few pieces of jewellery, an everyday tote, and an evening bag.
Shoes – you don't need painful shoes to look good. Everlane flats are always a great choice! They look casual and chic at the same time which is one of their biggest advantages. Boots are also perfect for colder days but they can easily make your outfit look less polished, that's why it's important to choose classic styles in neutral colours that go with everything. Comfortable shoes are a must.
Final Thoughts
In conclusion, capsule wardrobes are a great way to build versatile outfits and save money. If you're intimidated by the idea of a wardrobe with just a few pieces, try building your own starting from basics such as jeans or leggings paired with basic tops. From there, add accessories that can be changed up for different looks throughout the week. Capsule wardrobes are great for every age and they don't have to include only casual clothes! You can always dress up and look amazing. I hope you have enjoyed this article and don't forget to pin your favourite outfits!
Trench coat or here / Black Dress / Shirt or Oversize / Stripe Tee and here / Jeans / Sleeveless top / Mules / Shoes / Leather Tote